Sustainable Business – Energy

Energy Saving

 
Most businesses can save money and energy by focusing on energy usage. Energy wastage happens primarily when we don't think about it: leaving lights, heating and equipment running unnecessarily. Making quick and easy changes around lighting, heating, business equipment and transport can help reduce your businesses carbon footprint as well as reducing your energy bills.
 

What gets measured gets done!
Ensure you know how to read your electricity and gas bills. Talk to energy supplier and ask if they can analyse your bill to help you understand when your business uses most energy. Check if there is a better tariff for your business.  

Locate your gas and electricity meters and learn how to read them.  

Start tracking your energy usage. A simple spreadsheet tracking your electricity, gas and water usage will help you to identify patterns. Consider adding a column for your black, green and brown bin waste. Tracking information and identifying patterns will help you to take action to further reduce energy and waste.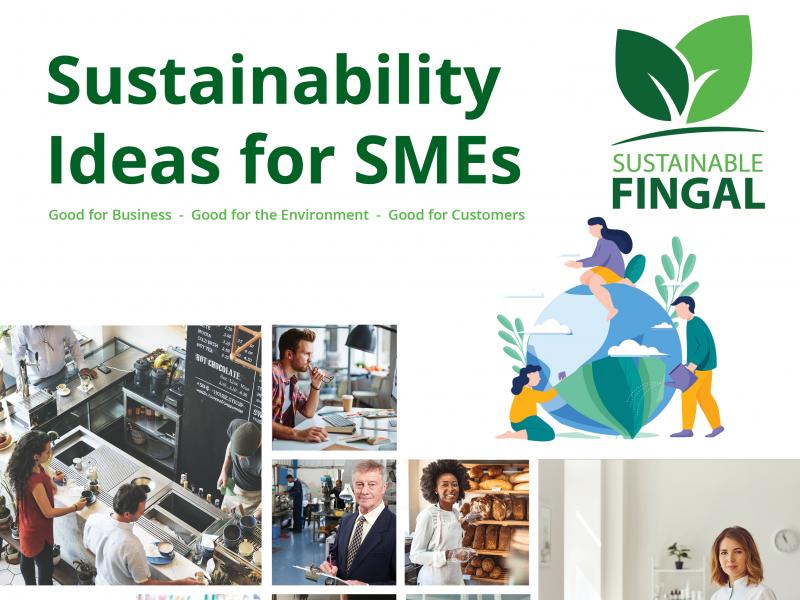 Sustainability Checklist Brochure
Download our Brochure to learn about more ways to help monitor and reduce your energy usage in your business.

Useful Resources:
Check out the following links from the SEAI for more information, advice and support on reducing energy usage.
Check out the Energy Academy, a series of free short (15 – 20 minute) interactive modules suitable for all SMEs, including those with little to no experience with energy efficiency. Covers various elements of energy efficiency, e.g. how to read your bills, the business case for energy efficiency, understanding various different technologies, etc. focussing on Business Energy Efficiency and Energy and Climate Change.
This free guide provides no-cost, low-cost and investment ideas for SMEs looking to save energy.
Download energy awareness posters and stickers, ready to use in your business.
Take part in an SEAI Energy Management workshop. Designed for businesses with a greater energy spend and/or interest in saving energy, this 2 hour workshop will help businesses to develop a formal energy management plan.
SEAI have a range of grants and supports available to business that are well worth exploring. These include, but are not limited to:
Support Scheme for Renewable Heat (SSRH)
This is a support scheme for replacing an existing fossil fuel heating system with one that is fuelled by renewable energy. Offers either ongoing operational support (a tariff) or a one-off grant for installation costs. This is particularly suited to businesses with high heating requirements.
Energy Efficiency Obligation Scheme (EEOS)
This scheme is administered by SEAI requires energy suppliers and distributors (knows as Obligated Parties) to provide some degree of financial or technical support to businesses and individuals looking to make energy savings. SMEs don't have to use their own energy suppliers – can work with any of the Obligated Parties, which are listed here.
Electric Vehicles (EV) Grant
This scheme provides a grant of up to €3,800 for commercially purchased EVs with a list price of €14,000 or more.
Now that you've considered your energy use, why not have a think about your water and waste ?
Find out how businesses like yours are introducing sustainability measures Case Studies
Contact us at [email protected]  
Win a Sustainability Audit for your business
Check out our Competition