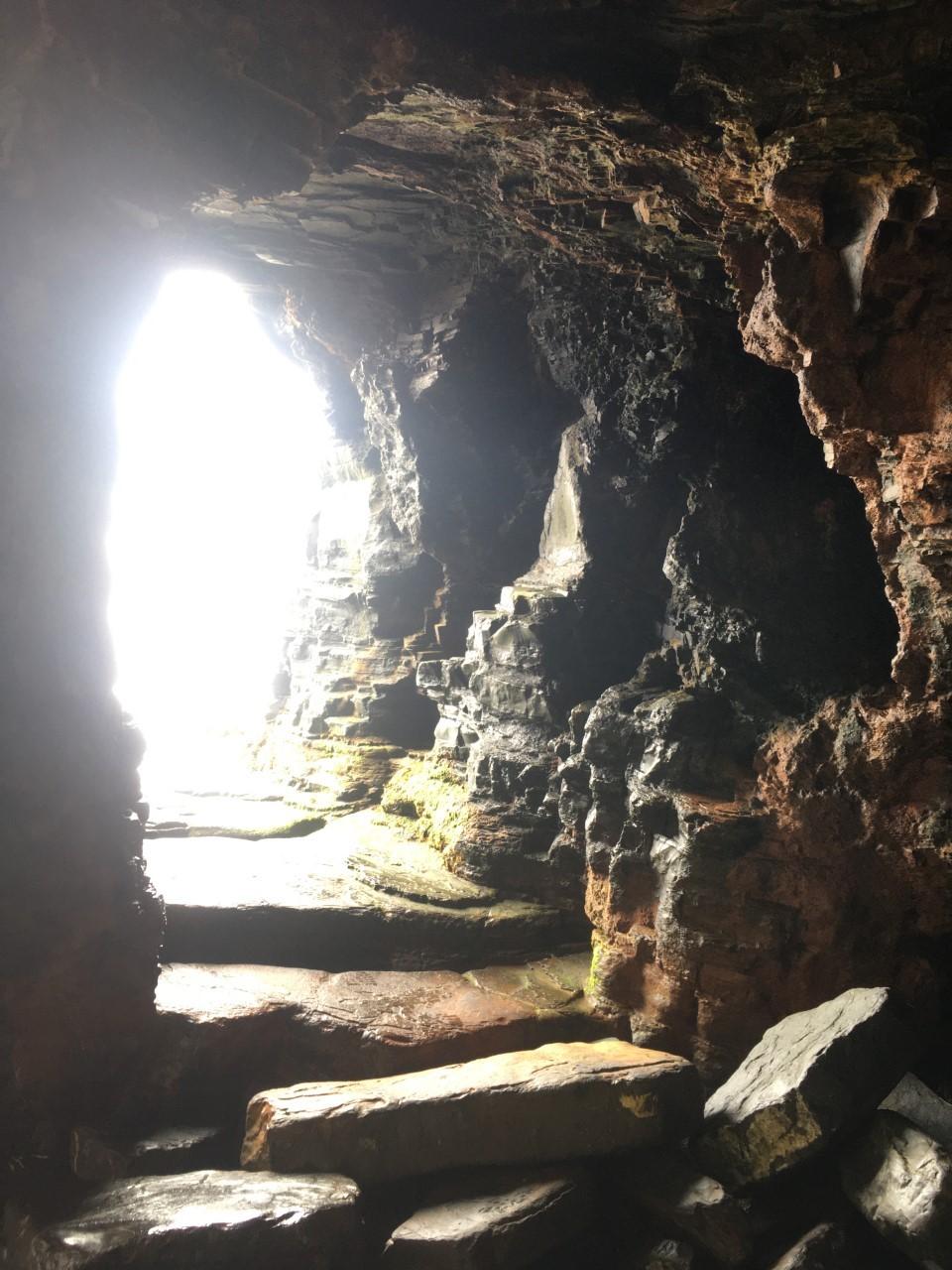 Along the coastal cliff face just north of Loughshinny Harbour you will find a dark opening leading into a cave known locally as 'The Smuggler's Cave'. It is so called because it was used as a resting place for stolen cargo by smugglers in the 18th and 19th centuries (SC Vol. 0785: 95). A smaller unnamed sister cave (pictured above) leading into the cliff face just south of Loughshinny harbour may also have been used as a smuggling store. During the 18th century the Fingal coastline was rife with smugglers, several of whom were native to Fingal (Pratt 2006: 44). One such pirate Jack O'Connor (nicknamed Jack the Bachelor) was buried in Kenure cemetery and his thatched cottage on Lower Main Street can be visited today.
                                             Geology and Mining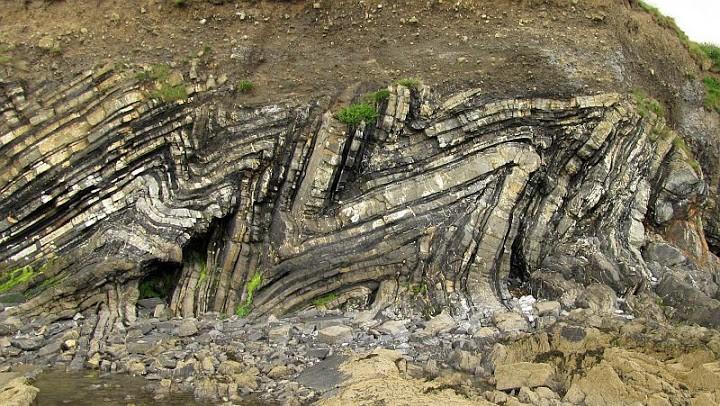 The smuggling trade may have named the cave, but it is thought to have been the mining industry that created it. The geology of the Loughshinny coastline is comprised of different layers of sedimentary rock including limestone and shale. These layers were formed from the deposition of organic materials around 300 million years ago. The later movement of tectonic plates elsewhere in Ireland caused a rippling effect within these soft sedimentary layers making them buckle and fold (Roycroft 2014). The folded chevron shapes veined with white minerals are visible today in the cliff face just south of Loughshinny harbor and appear to weep rusted red tones. This is due to fault lines occurring between the layers of the sedimentary stone allowing minerals including calcite and copper to form (Callaghan 2009). Attracted by this copper a mining investor called Martin O'Connor opened a mine at Loughshinny in 1760 (Pratt 2006: 46). However, after he was denied a charter to mine coal from the area he moved on. The mines then changed hands several times before being closed in 1845 due to their lack of profitability. It is from these activities that Mine Road in Loughshinny gets its name (SC Vol. 0786: 88).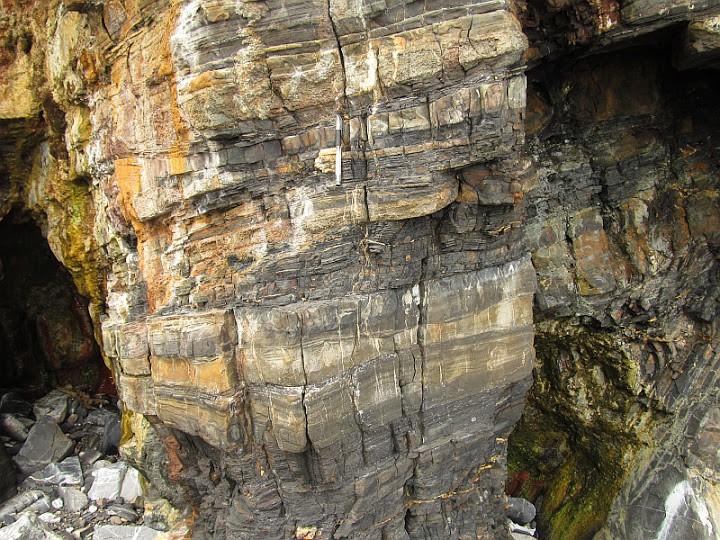 The local folklore of Loughshinny is full of cautionary tales about entering these caves. According to one tale a cave collapse killed one man while another died trying to rescue him (SC Vol. 0784: 93). In another local story two men explored the cave in the hopes of finding silver but got lost and died in the search (Pratt 2006: 44). The danger and instability of the caves may extend to areas of land around Loughshinny as well. A curious local tale called the 'Disappearing Ploughman' describes a man out ploughing his fields one day when he is suddenly swallowed up by the ground below. Local scholar George Pratt has linked this story to another local account from 1961 of a woman whose garden collapsed in on itself while she was hanging out the washing (Pratt 2006: 47). Pratt believes both stories are evidence of hidden mineshafts in the Loughshinny area so beware!
                                    Want to Delve Deeper?
If you want to find out more about the colourful history of piracy in Fingal, click here to listen to an excellent podcast. If you would like to learn more about the geological heritage of Fingal, click here to access a digitized book on the subject. Click here for a heritage map of Loughshinny harbour and its surrounds. However, please note that you should not attempt to access either of the caves without a local guide.
Bibliography
Callaghan, Stephen (2009), ''A history of Loughshinny - Textbook Folds and the Copper Mine Fault'', accessed through https://www.mindat.org/article.php/517/A+history+of+Loughshinny+-+Textb…
Loughshinny Historical Millennium walk, accessed through http://www.loughshinnyvillage.com/index.htm
Parkes, Matthew (2012), Islands, Coasts and Quarries: The Geological Heritage of Fingal, Dublin.
Pratt, George (2006), ''Loughshinny & its Environs'', Time & Tide, Vol. 5, Dublin.
Sepp, Siim, 'Folds at Loughshinny', accessed through https://www.sandatlas.org/folds-at-loughshinny/
School's Manuscript Collection, National Folklore Collection, accessed through www.Dúchas.ie
Smith, Barry (2020), ''Episode VII-Pirates Just North East of the Caribbean'', Fingal Libraries Podcast of Many Things Cultural, accessed through https://open.spotify.com/show/2itRJM1Orga8cgMv8iaZN8
Roycroft, Oona 2014, '50 Shades of Grey: Loughshinny's Shady Past Revealed', accessed through https://oldskerries.ie/