RTB And Fingal County Council Offer Free Training To Dublin Landlords As Part Of Betterlet: Accreditation Scheme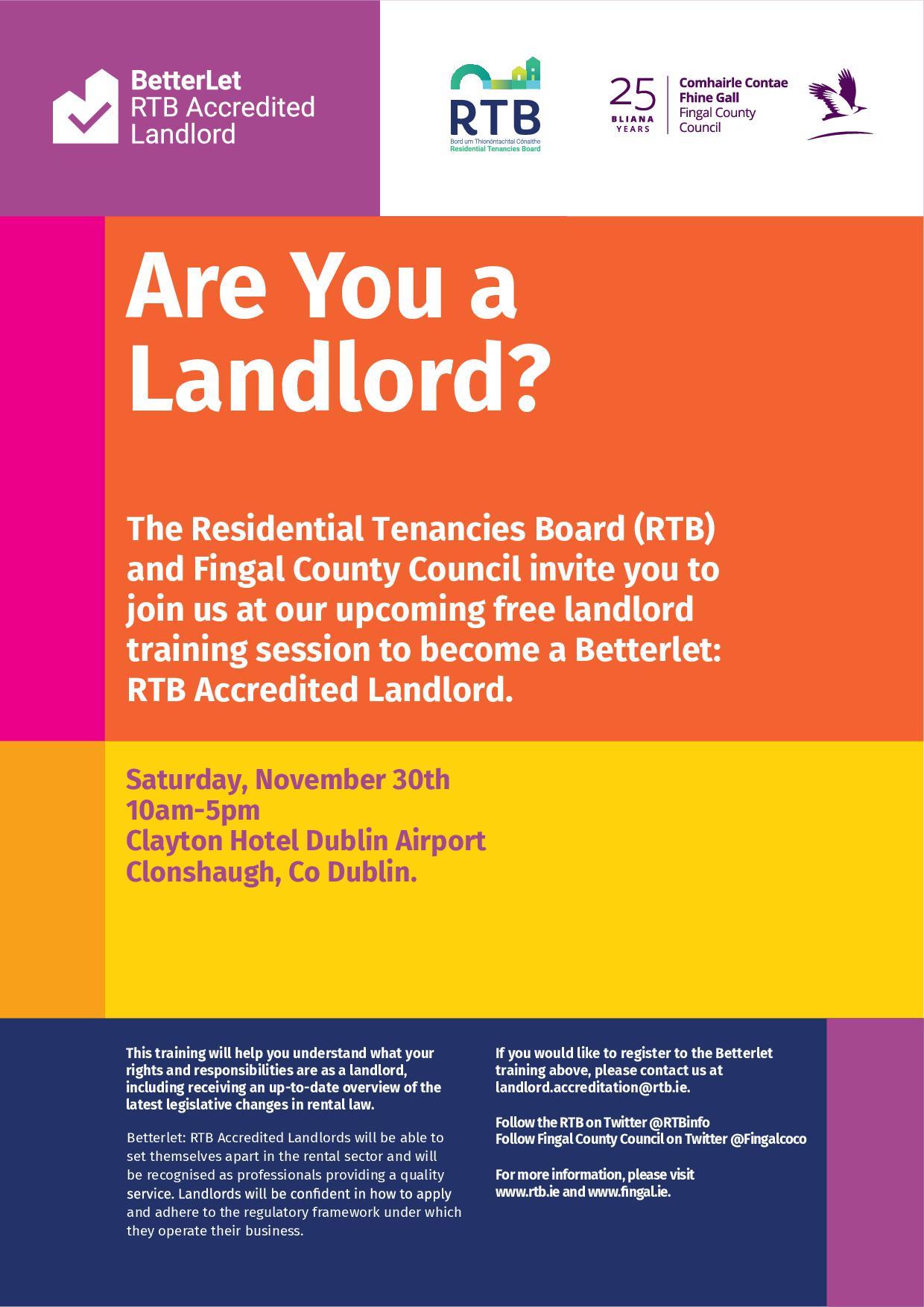 The Residential Tenancies Board (RTB) has partnered with Fingal County Council to deliver the RTB Betterlet: Accredited Landlord training scheme. The RTB and the Fingal Housing Department are inviting landlords in Fingal County and surrounding counties to take part in its free, one-day accreditation course on Saturday, 30th November at the Clayton Hotel Dublin Airport.  
The Betterlet: RTB Landlord Accreditation scheme aims to support landlords to gain a stronger understanding of their rental rights and responsibilities, as well as equip them with the knowledge of the latest legislative changes that effect their new or existing tenancies.
Commenting on the new partnership and the benefits of the Betterlet scheme, Caren Gallagher, RTB Head of Communications and Research, said; "We are delighted to be partnering with Fingal County Council's Housing Department to jointly deliver this Betterlet training session. Landlords play a vital role in providing healthy and safe homes for people across the country. By delivering these sessions together, we hope to be able to support landlords in navigating the complex regulatory framework governing the rental sector – from the latest rental law changes to guiding landlords through a local authority inspection.
Our accredited scheme enables participating landlords to set themselves apart in the rental sector and be recognised as professionals providing a high-quality service. Accredited landlords will also be better informed and more confident in their ability to apply and adhere to the regulations under which they must operate, helping to mitigate any unnecessary penalties or disputes with tenants."
The accreditation course will take place from 10:00am to 5:00pm and will cover the following areas, which have been updated with the latest legislative changes: 
Pre-tenancy guidance

How to manage a tenancy throughout from beginning to end

Rights and responsibilities – landlord and tenant

Dispute prevention and what to do if things go wrong

Minimum standards – how to ensure your property is compliant with the minimum standards

Rent Pressure Zone qualification criteria and exemptions

How to end a tenancy – information on how to correctly serve notice and what reasons can be relied upon
Participants' accreditation will be subject to a short assessment at the end of the course and once awarded, accreditation is valid for two years.
Fingal County Council's Director of Housing, Margaret Geraghty, adds; "Fingal County Council is delighted to partner with the RTB in this Initiative and is the first of its kind to be rolled out in Fingal.
Fingal County Council recognises the invaluable role landlords have in providing homes for tenants in private rented accommodation within our administrative area. The aim of the BetterLet scheme is to provide free training to landlords designed to better inform them of their rights and responsibilities, policy and regulatory changes in the sector and how to successfully manage tenancies. 
In 2017, Fingal set up a new unit in the Housing Department with responsibility for proactively inspecting all private rented properties in Fingal to ensure compliance with the relevant regulations. To date, this unit has carried out in excess of 5,000 private rented property inspections since 2017 and has exceeded the targets set by the Department of Housing for the inspection of private rented dwellings. There are currently 21,034 registered private rented properties in Fingal.
I would encourage landlords to participate in the free training session which will undoubtedly provide a clear and incisive insight into this complex area."
For more information on the scheme, or to register for the upcoming accreditation course, contact the RTB at [email protected] or visit www.rtb.ie to learn more. 
For further information or to arrange an interview with an RTB representative, please contact:
Aine Roddy, Carr Communications, [email protected] / 087 777 3688
ENDS
NOTES TO EDITOR
About RTB
The Residential Tenancies Board (RTB) is a public body set up to support and develop a well-functioning rental housing sector. Our remit extends to the private rental sector, Approved Housing body sector and most recently, student specific accommodation. Our role is to regulate the rental sector; provide information to tenants and landlords; maintain a national register of tenancies; resolve disputes between tenants and landlords; initiate an investigation into conduct by a landlord; and conduct research and provide information to inform policy.
Information, education and research
We provide high quality information to tenants and landlords as well as to the general public to help them understand their rights and responsibilities. We also provide accurate and authoritative research and data on the rental sector, such as the RTB Quarterly Rent Index, which allows us to monitor trends in the rental sector and also allows individuals to compare rents in particular locations.
Registrations
All private residential landlords, Approved Housing Bodies and landlords of student specific accommodation are obliged to register their tenancies. A public register is available on our website. The registration of tenancies enables us to collect important data on the sector, and is also a key part of regulating and supporting the sector and ensuring landlords and tenants are aware of their rights and responsibilities.
Future changes to the legislation will be introducing annual registration where landlords will register each tenancy annually from the tenancy commencement date at a lesser fee than the current per tenancy registration process. The RTB will contact landlords prior to this change commencing.
Dispute resolution services
Since 2004, we have replaced the courts in dealing with the majority of disputes between landlords and tenants through our Dispute Resolution Service. This service offers a choice of resolution types to parties – mediation or adjudication.
Investigations and sanctions
The RTB has a new investigations and sanctions unit dedicated to investigating potential breaches of rental law by a landlord in relation to a rent which has not been lawfully set within an RPZ or where a notice of termination has been served citing a reason which the landlord did not ultimately act on. These investigations can commence either pro-actively by the RTB or on the basis of a complaint from a member of the public. Sanctions available to the RTB include a caution and/or costs incurred by the RTB in investigating the matter up to €15,000.
About Fingal County Council's Housing Department
Fingal County Council's Housing Department implements the Rebuilding Ireland Action Plan across the five key pillars of the Plan by delivering social housing support for those unable to provide accommodation for themselves from their own resources and delivery of homeless services including prevention services remains a priority.
Fingal County Council has provided housing solutions for 5,170 families over the lifetime of the Housing Strategy 2020 and Rebuilding Ireland Action Plan through a range of delivery mechanisms including construction, Part V, acquisitions, leasing and the Housing Assistance Payment Scheme (HAP).
Between 2015-2017, Fingal County Council delivered 2,241 homes, ahead of the agreed target of 1,376. In 2018, Fingal delivered 1,953 homes, ahead of its target of 1,826. For 2019, Fingal has a target of 2,184 dwellings, an increase of 20% on last year, made up of new builds, Part V, acquisitions, leasing, HAP and RAS.
Fingal County Council has an ambitious construction programme underway with 22 sites across the county and 210 homes already delivered. In addition, there are a number of schemes at pre-planning stage which will be brought forward over the coming year.
Fingal County Council is also moving forward with its first Affordable Housing Scheme, which is aimed at addressing some of the challenges faced by low-to-middle income earners in purchasing a property. The Council has sought expressions of interest from development partners for the design, construction, delivery and sale of the scheme at Dun Emer in Lusk. €1.5m has been allocated for the reconstruction of Kilhedge Lane under the Government's Serviced Site Fund established to provide key facilitating infrastructure, on public lands, to support the delivery of affordable homes to purchase or rent.
The Department also manages and maintains the Council's housing stock and the efficient turnaround of housing voids and provides services to council tenants, to those with a housing need and to private householders by way of housing loans and adaptation grants. The Housing Department is also responsible for the implementation of action under the Travellers Accommodation Programme.
In 2017, Fingal County set up a new unit in the Housing Department with responsibility for proactively inspecting all private rented properties in Fingal to ensure compliance with the relevant regulations.
 
For information please contact [email protected]