New Funding for Streetscape Enhancement Projects in Donabate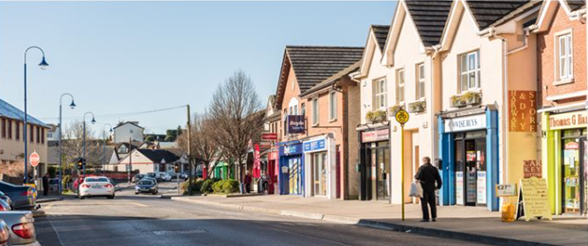 Fingal County Council has been successful in securing €40,000 for streetscape enhancement projects in Donabate through the Department of Rural and Community Development's Town and Village Renewal Scheme. The funding is part of Our Rural Future, the five year strategy to revitalise rural Ireland and make our rural towns and villages more vibrant and attractive places to live, work and visit.
The funding will support the upgrade of commercial premises, residential and community buildings, in Donabate through shopfront improvements, painting, signage replacement or removal, lighting and green planting.
Fingal County Council is now seeking expressions of interest from Donabate for enhancement works in the designated town centre area. A maximum of €7,200 per eligible property can be applied for. Further details on the Scheme, Terms and Conditions and how to apply can be found here Expression of Interest Form  
Welcoming the announcement of the new funding, the Mayor of Fingal, Cllr Howard Mahony, said " I welcome the announcement of the new funding for this streetscape enhancement scheme in Donabate. The funding is a welcome boost for the community and will assist in enhancing the Town Centre."
AnnMarie Farrelly, Chief Executive of Fingal County Council said "Fingal County Council plays a leading role in rural development through community and business supports and infrastructure development. This new Streetscape enhancement scheme for Donabate, is a welcome additional source of such support and will help the local community to enhance the attractiveness and vibrancy of the town."
Expressions of interest must be received by Fingal County Council on or before 12:00 noon on Friday the 30th June 2023.
Interested parties should email the expression of interest form and required supporting documents to  [email protected] or post the expression of interest form along with all supporting documentation to Town Regeneration Office, EETCD, Fingal County Council, County Hall, Main Street, Swords, Co Dublin, K67X8Y2.