Mayor and Chief Executive update Taoiseach on progress of Donabate Distributor Road
The Mayor of Fingal, Cllr Eoghan O'Brien and Fingal County Council Chief Executive AnnMarie Farrelly gave An Taoiseach Leo Varadkar, TD, an update on the progress of the Donabate Distributor Road during a site visit today.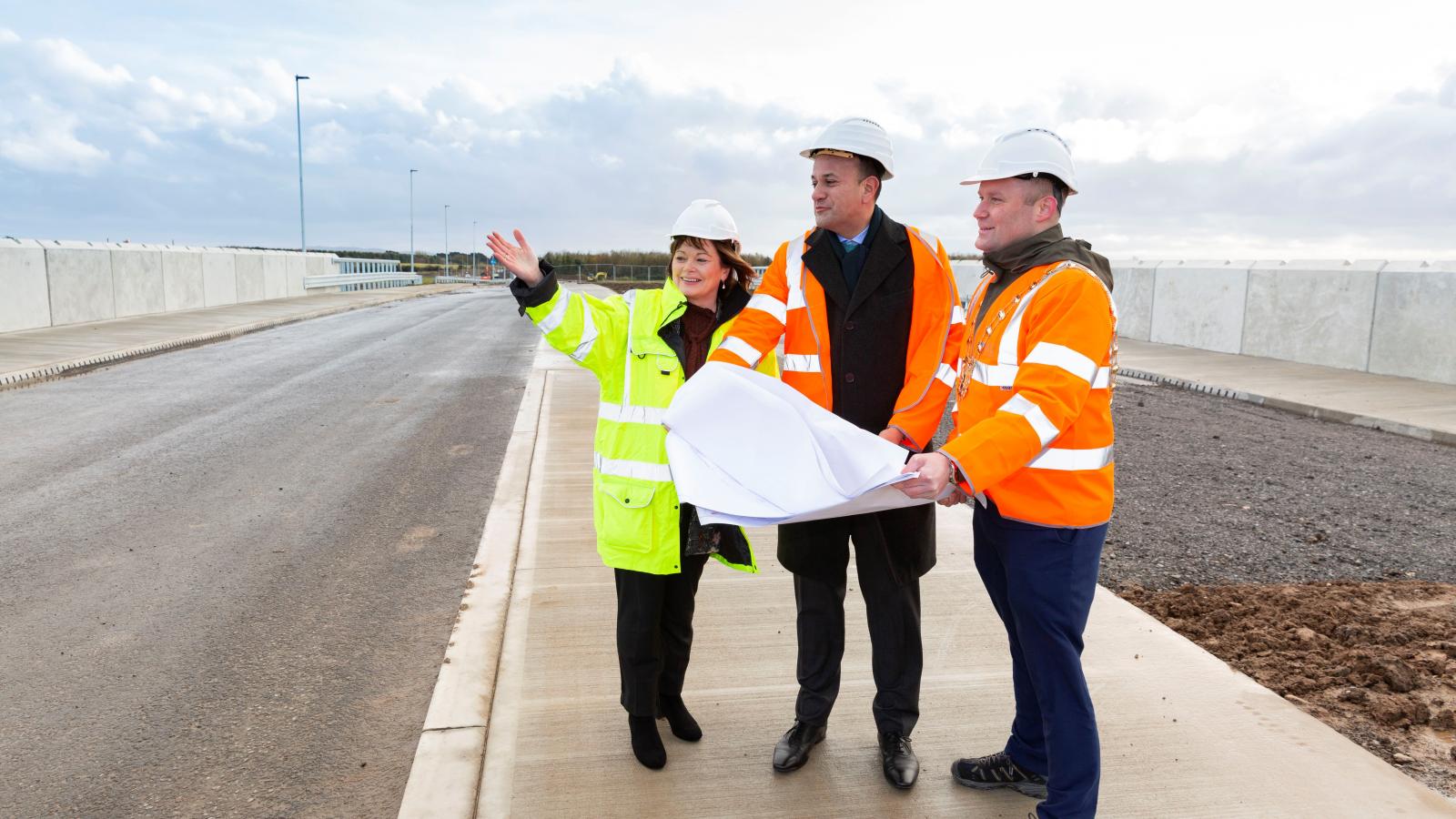 The 4km road, which is the county's first project under Rebuilding Ireland's Local Infrastructure Housing Activation Fund, is due to be completed within eight weeks and will lead to the provision of 1,200 homes in the medium-term with an anticipated potential build of 2,200 homes being provided in the long-term.
That figure includes the delivery of approximately 1,200 new mixed tenure homes on Council-owned land at Ballymastone together with a €3m investment by Fingal County Council in an educational and recreational hub adjoining the residential lands and the distributor road.
The road will also provide a second bridge crossing over the mainline Dublin-Belfast railway line, thereby alleviating traffic in Donabate village and providing an alternative access for Portrane and the eastern parts of Donabate. It will also improve access to the strategically important National Forensic Mental Hospital in Portrane when this national facility becomes operational.
The Mayor of Fingal, Cllr Eoghan O'Brien, said: "I was delighted to welcome An Taoiseach to Donabate today and show him, from the vantage point of the new bridge over the railway, the benefits that it will bring to Donabate and Portrane. I was also able to show him the route of the proposed greenway across the Broadmeadow Estuary from Malahide to Newbridge House and explain the boost that it is going to give to both residents and visitors."
The Chief Executive of Fingal County Council, AnnMarie Farrelly said: "The Donabate Distributor Road is a key piece of strategic infrastructure and is part of the Donabate Local Area Plan 2016-2022 which is designed to deliver social and physical infrastructure to the area in order to create sustainable communities. As well as a phased delivery of a wide range of house types and sizes there are also plans for the development of commercial and recreational facilities including the Donabate Education & Recreational Hub, the Broadmeadow Greenway and the Corballis Nature Park."
The Donabate Distributor Road is one of three LIHAF funded strategic projects within the county and the estimated cost of this LIHAF project is €14.15m with €10.61m (75%) being funded by the Department of Housing, Planning and Local Government with the remainder funded by Fingal County Council.
The main contractors are MEIC Ltd. At its peak, some 100 personnel were employed on site between the main contractor and various sub-contractors, with additional employment generated from off-site suppliers and services across the supply chain.