Latest batch of students graduate from TY Football and Fitness Course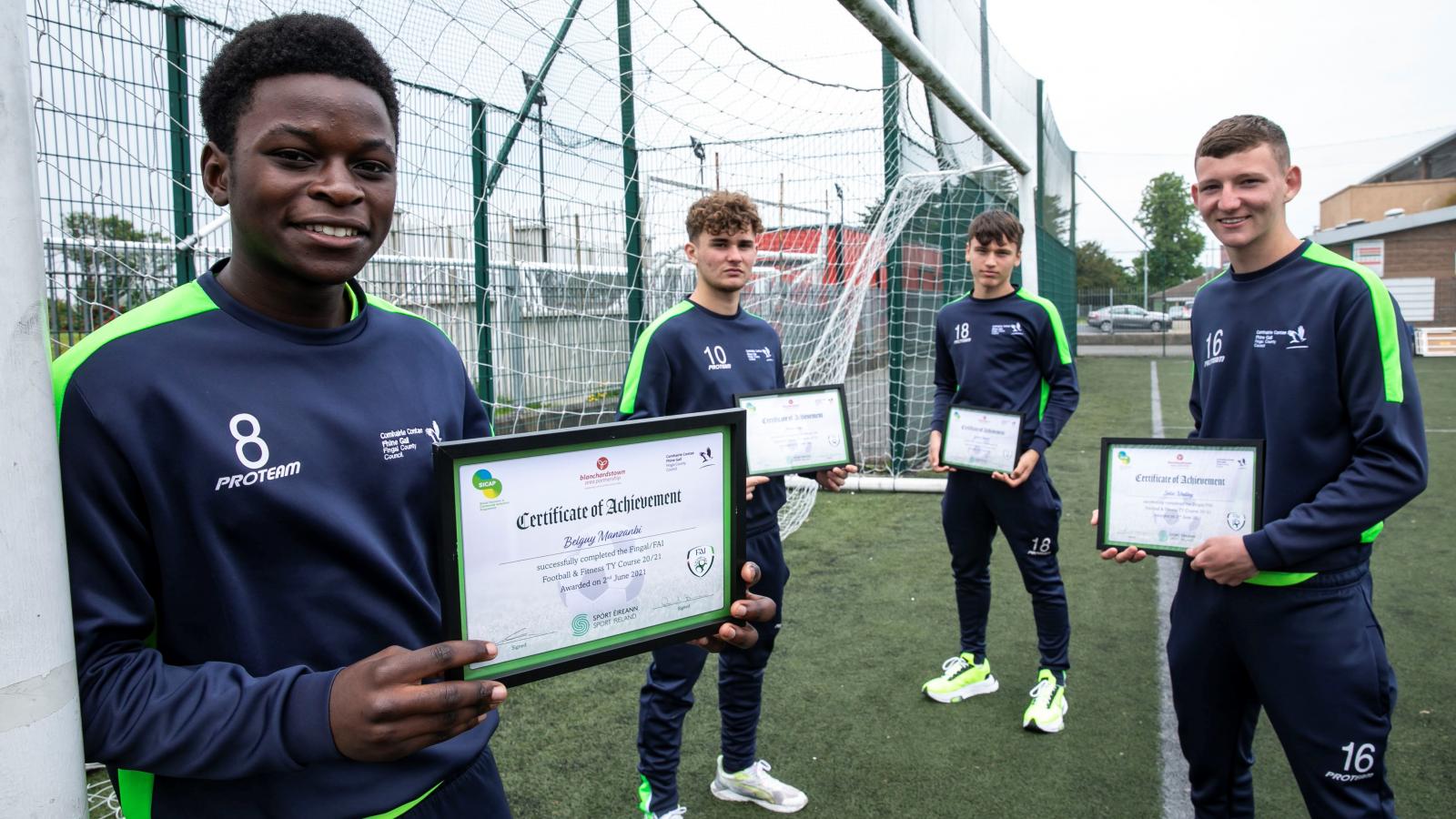 The latest batch of students have graduated from the Football and Fitness Transition Year course which is jointly run by Fingal County Council and the Football Association of Ireland in Corduff Sports Centre
Since its inception in 2016, several of the course's alumni have gone on to represent their country at various age groups up to and including Republic of Ireland Under 21's along with several players flourishing at League of Ireland clubs, FA Premier League and Championship clubs.
Andrew Omobamidele, who graduated from the second course in 2018, was part of the Norwich City team which won the English League Championship and promotion to the FA Premier League. That earned him a call-up from Ireland team manager Stephen Kenny for Ireland's summer camp in Spain and he was an unused substitute in the friendly match against Hungary last Tuesday.
While the course is still awaiting its first senior international graduate it has supplied 31 graduates who have been capped by Ireland at underage level and 12 of them only made their debut after enrolment. 21 graduates have already played in the League of Ireland while 76 have appeared in the National Underage Leagues while a further 10 have earned professional contracts outside Ireland.
Among the 25 who graduated this year is Kevin Zefi who is a Republic of Ireland U17 international and is set to join Italian giants Inter Milan from Shamrock Rovers this summer.
The course, which is always over-subscribed, sees the Transition Year students move from their own Secondary School to participate in a programme which includes mix of their academic subjects and FAI Coach Education courses along with modules in ITEC Fitness Instruction, Nutrition, Match Analysis and Personal Development. They are also exposed to full-time football training and strength & conditioning work.
A unique feature of the Course is that students return to their local schools one day a week to work with teachers in the delivery of physical education and gain valuable work experience, whilst also impacting of the sporting development of over 1,500 primary school students each week as well as being involved in other school and community programmes.
"The purpose of the course is to help the personal development of the participants and to show them how to balance the demands of sport and education at a pivotal moment in their young lives," says Course Coordinator Denis Hyland.
"The course allows them to live in a proper football environment for a year while also meeting their educational needs. They are at an age when some young players head abroad to join professional clubs and this programme allows them to reap the same footballing benefits while remaining at home with their families and putting something back into their local communities."
The Deputy Mayor of Fingal,. Cllr Robert O'Donoghue, presented Graduation Certificates to the 25 students at a special ceremony on the all-weather pitch at Corduff Sports Centre and said: "This is a unique and innovative course and the only one of its kind in Ireland. It has provided young footballers from across the county an opportunity to experience a football environment while continuing their education and also giving something back to their respective communities. The success already enjoyed by some of the graduates is definitely going to be an inspiration to those who follow in their footsteps."
Fingal County Council's Acting Principal Sports Officer, Niall McGuirk, said: "The course is continually developing and, where practical, improvements are made to improve the user experience. The demand each year for places on the course shows the positive impact it is having on. Both the Council and the FAI are very grateful for the assistance we have received over the years from Empower and the participants' own schools."
Republic of Ireland U21 Team Manager, Jim Crawford said: "My belief is that this course is a fantastic initiative, that gives young players an opportunity to experience a full time football environment. Not only do they train on the pitch to develop their decision-making and execution in different scenarios on a daily basis, but they obtain coaching badges and delve into match analysis and strength and conditioning programmes too. The guidance that these players are given are from highly skilled and experienced coaches, who have player development at the heart of this amazing course. If anyone harbours any aspirations of becoming a professional footballer, this is the step in the right direction. If there were more of these courses rolled out throughout the country it would certainly raise the playing standard of many 15 and 16 year olds in our game."