Free Community event to be held in Donabate in advance of Distributor Road opening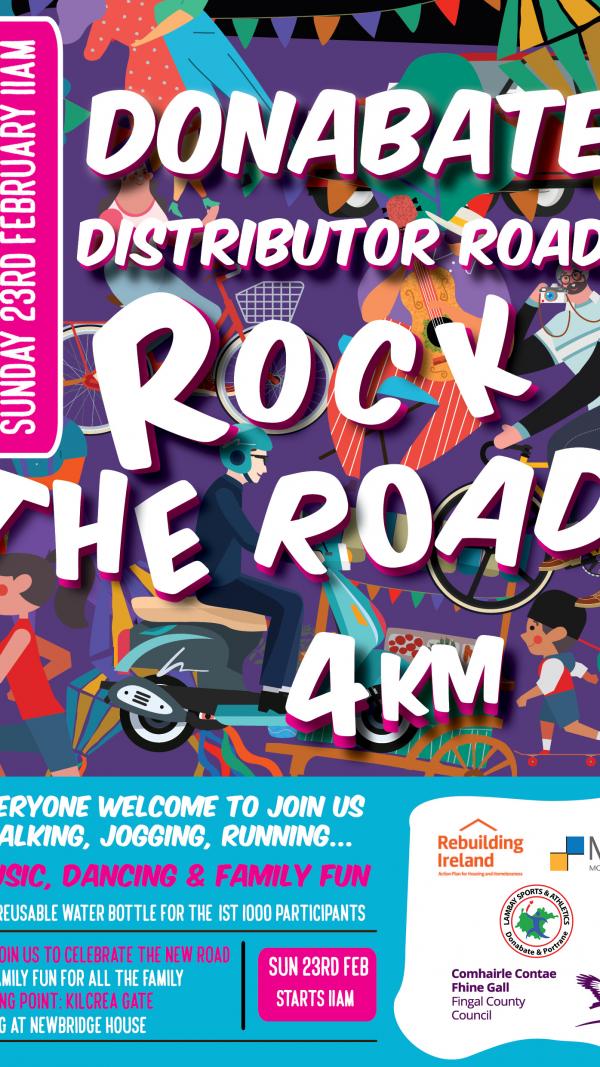 Fingal County Council is set to host a free community celebration in Donabate in advance of the official opening of the Donabate Distributor Road.
The "Rock the Road' event will take place on Sunday, February 23 at 11am and local residents will enjoy a vehicle-free 4km event down the new road, which is set to open at the end of the month.
Community groups and residents are invited along to the family-friendly event, of which the first 1,000 participants will receive a free commemorative reusable water bottle. There will also be face-painting, music and dancing to keep everyone entertained as they enjoy a first look at the new road which enjoys amazing panoramic views.
Members of the Lambay Sports and Athletics Club, which is based on the peninsula, are already confirmed to join in the fun.
Free parking will be provided at Newbridge House. Participants are asked to assemble opposite the Kilcrea Gate before heading down the new road.
Mayor of Fingal Cllr Eoghan O'Brien said: "The "Rock the Road" event promises to be a great community event and I would invite as many local residents as possible to come along and join in the fun.".
Chief Executive AnnMarie Farrelly said: "I would like to thank the residents of Donabate and Portrane for their patience during the construction of the Distributor Road. The "Rock the Road" event is our way of saying thank you to local residents and I would encourage them to come along and enjoy the event."
The Donabate Distributor Road (DDR) was the first LIHAF project under the Rebuilding Ireland programme to reach the construction stage. The route provides a bypass of Donabate village and a new crossing over the Dublin-Belfast railway line and includes footpaths and cycle facilities along its length.
As well as creating better access to Donabate and Portrane and alleviating traffic congestion in the village, it will also improve access to the new National Forensic Mental Health Services facility currently nearing completion at Portrane.
As well as supporting the phased delivery of over 2,000 new homes, the new road will underpin new educational and recreational facilities in the area including a new schools campus, significant sporting facilities as part of the Donabate Recreation Hub, the Broadmeadow Greenway linking Donabate to Malahide and the Corballis Nature Park.
The Donabate Distributor Road is one of three LIHAF funded strategic projects within the county and the estimated cost of this LIHAF project is €14.15m with €10.61m (75%) being funded by the Department of Housing, Planning and Local Government with the remainder funded by Fingal County Council.
The main contractors are MEIC Ltd. At its peak, some 100 personnel were employed on site between the main contractor and various sub-contractors, with additional employment generated from off-site suppliers and services across the supply chain.