'Estuary' exhibition to mark 25th anniversary of Council's Municipal Art Collection launched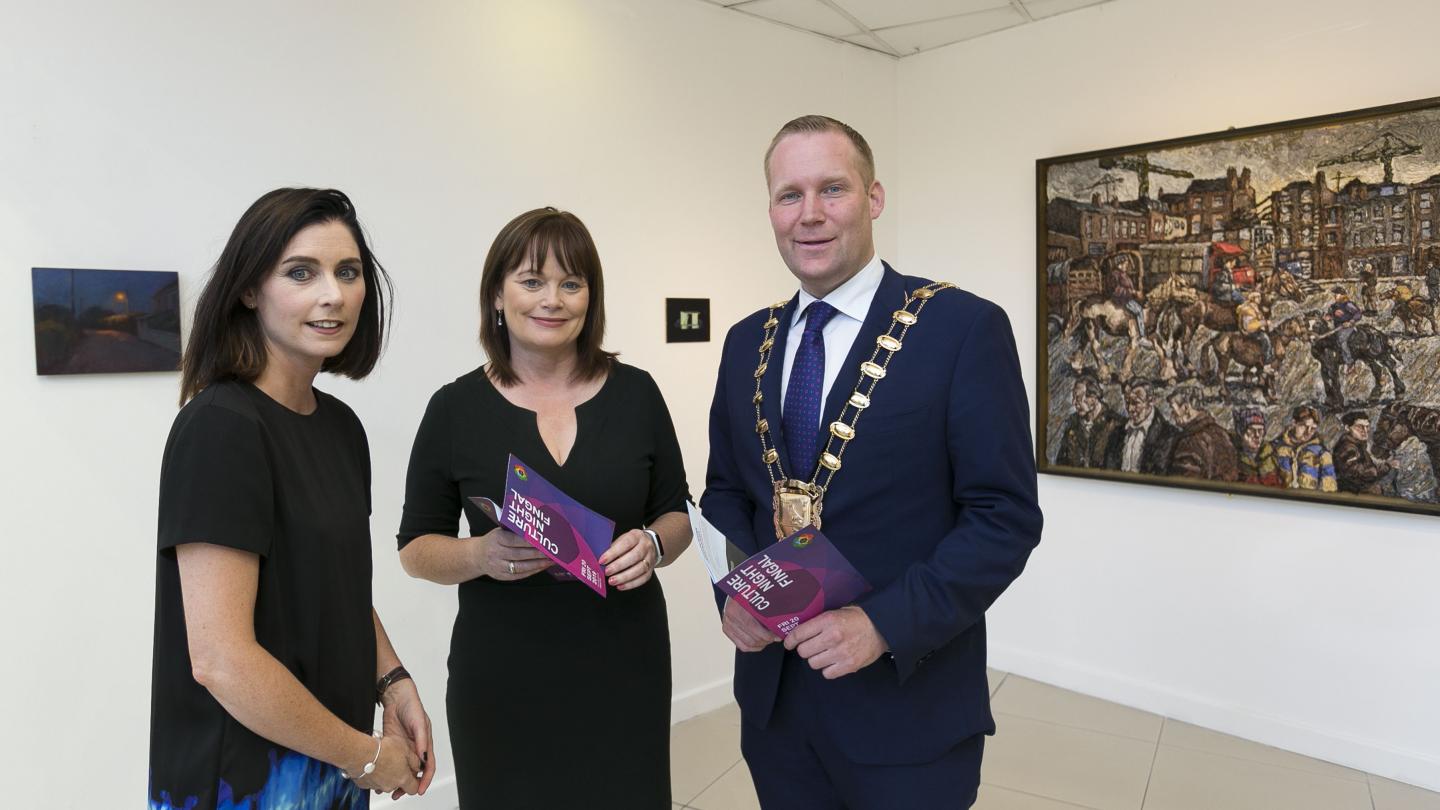 A major exhibition celebrating the 25th anniversary of Fingal County Council's diverse, engaging and captivating Municipal Art Collection was officially opened on September 12.  Organised by the Fingal Arts Office, 'Estuary' was launched by Mayor of Fingal Cllr Eoghan O'Brien at the Draíocht Arts Centre in Blanchardstown with special guest poet, writer and lecturer, Theo Dorgan. The exhibition will continue until November 17. 
This major exhibition curated by well-known Fingal artists Una Sealy RHA, James English RHA, Joshua Sex and Sanja Todorovic features works by national and international artists, graduates, emerging artists and local artists.   The Fingal County Council Municipal Art collection features mostly two-dimensional work such as paintings, drawings, prints and photographs, which date from c1958 – 2018.  There are some three-dimensional works which include sculpture, ceramics and mixed media. The collection contains a broad selection of work by artists such as Eva Rothschild, George Potter, John Kindness, Pamela Leonard, Maeve McCarthy, Patrick Scott and Michael Cullen, amongst others.
Speaking at the launch Mayor of Fingal Cllr Eoghan O'Brien said "I would like to thank all those involved with this exhibition 'ESTUARY' and the publication 'Not in Alphabetical Order 2', especially our arts staff, the guest curators, and the artists who created these works. Our Arts office continue to lead an ambitious programme of arts activity and strategies which have always sought to push the boundaries of what is expected and bring the best experiences to our communities."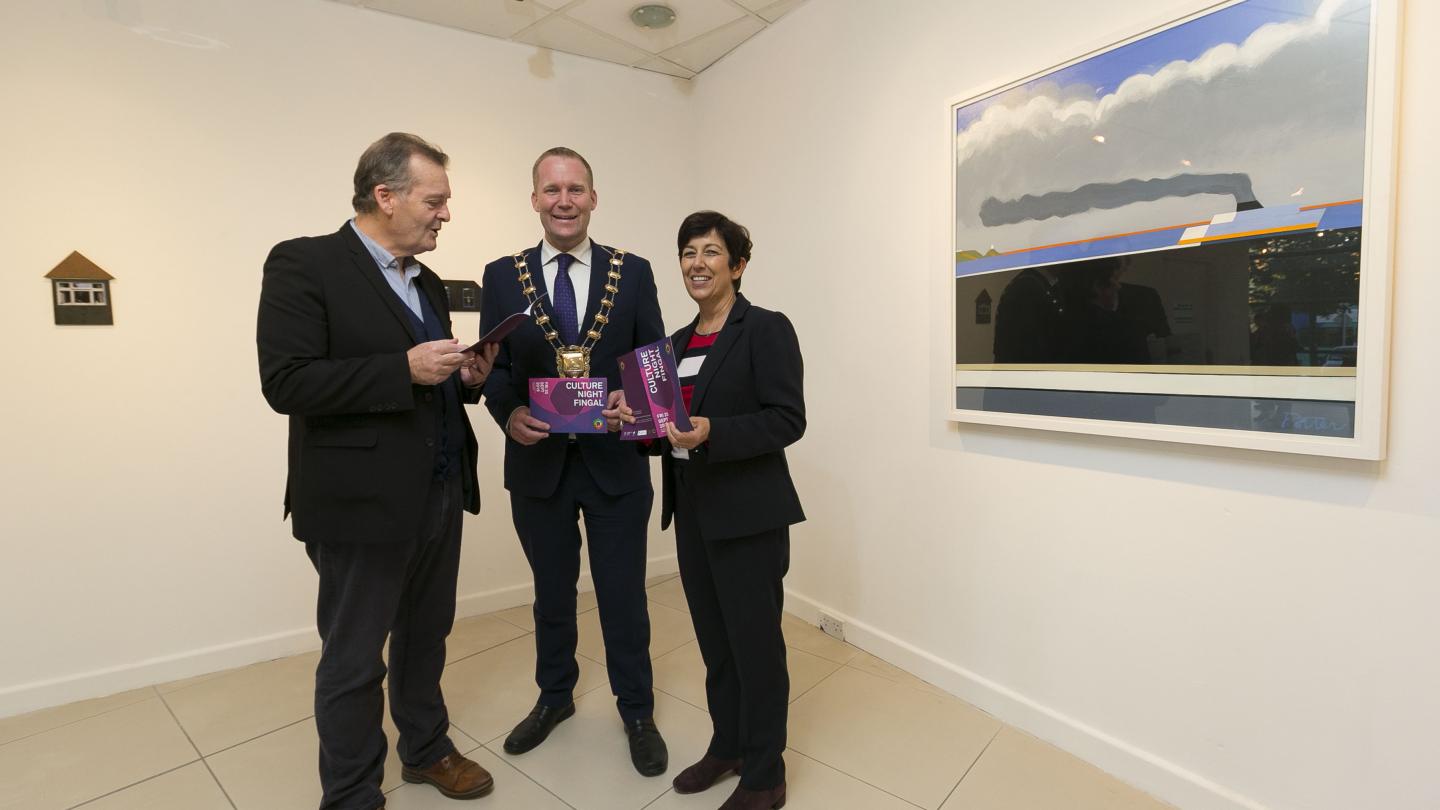 Interim Chief Executive AnnMarie Farrelly said: "The 'Estuary' exhibition presents a wonderful opportunity for the public to come and see the fantastic array of work contained in the Municipal Art Collection. I would encourage them to come along to the Draiocht Arts Centre to view the Collection during the exhibition's two-month run."
Fingal's County Arts Officer Rory O'Byrne said: "The aim of the Fingal County Council Municipal Art collection is to support artists at key stages of their careers, to enhance the experience of both the staff and public through the integration of artworks in County Hall, Swords and the Civic Offices, Blanchardstown, to educate young people about visual art and provide opportunities for them to meet artists who are part of the collection to gain an insight into their work."
The second volume of 'Not in Alphabetical Order' highlighting the collection's latest acquisitions was also launched at the opening of 'Estuary'.   In 2008, the first volume was produced and provided a snapshot of work from the collection. Artists were invited to comment on their particular work from the collection which provided an insight in to their creative process and was accompanied by a reflection on its inclusion in the collection by County Arts Officer Rory O'Byrne.  
A free public engagement programme for adults, children and young people will coincide with the exhibition.  The first of these events takes place on Culture Night on Friday September 20th in Draíocht Blanchardstown with a curator's tour of Estuary exploring key themes and artworks in this major exhibition. The curators Una Sealy RHA, James English RHA, Joshua Sex and Sanja Todorovic will guide you through the collection. For details of all  programme see  www.fingalarts.ie  or https://www.draiocht.ie/events/estuary_adult_engagement_programme