Cruthaím - Cruinniú na nÓg
Cruthaím is a very exciting opportunity for an Irish speaking young person to represent their county and celebrate creativity as part of Cruinniú na nÓg 2021! The deadline for application is Friday 21st April, 2021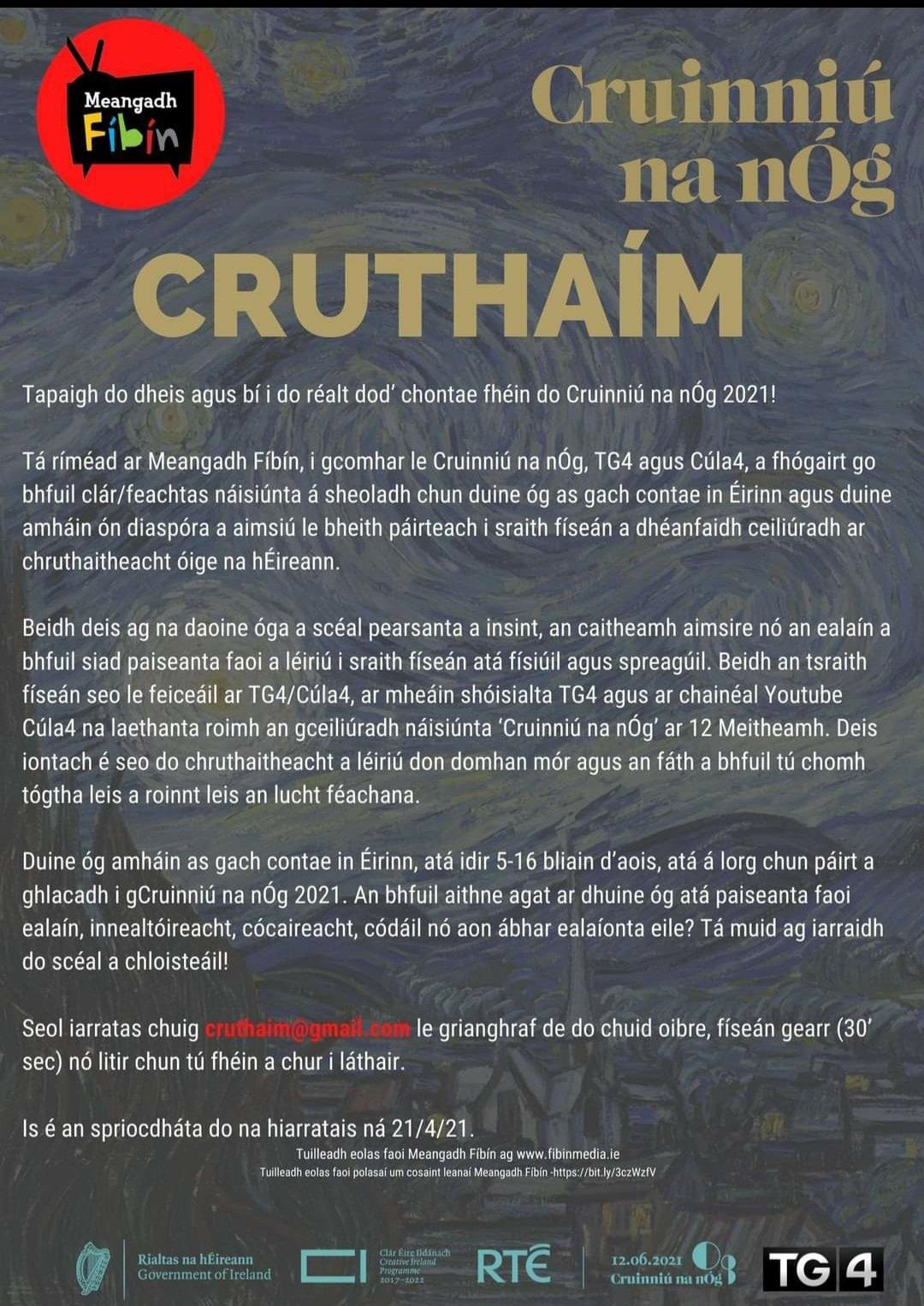 This is your chance to represent your county and celebrate creativity as part of Cruinniú na nÓg 2021!
Meangadh Fíbín, in conjunction with Cruinniú na nÓg, TG4 and Cúla4, are excited to announce the launch of a new campaign to find a creative young person from every county in Ireland, along with one young person from the Irish diaspora, to feature in a series that will air on Cúla4/TG4 celebrating young people's creativity and innovation..
Young people will have the opportunity to tell their story and share the reasons they are so passionate about their craft. The series will be broadcast on TG4, on TG4's social media and Youtube chanel during the week prior to Cruinniú na nÓg on the 12th June. This is a unique opportunity to express your creativity and innovation to a global audience.
We are looking for one young person from each county between 5-16 years old willing to participate and play a central part of Cruinniú na nÓg 2021. You may know someone or be part of a larger organisation who knows of a hidden talent. Please nominate or apply yourself!
Please send your application to  [email protected]  with a photo or preferably a short video (30 sec) telling us why you want to be part of Cruthaím and Criunniú na nÓg 2021. Participants must speak Irish.
Deadline for applications : 21/4/21
More about Meangadh Fíbín - www.fibinmedia.ie
Information on Meangadh Fíbín child protection policy -https://bit.ly/3czWzfV
Tapaigh do dheis agus bí i do réalt dod' chontae fhéin do Cruinniú na nÓg 2021!
Tá ríméad ar Meangadh Fíbín, i gcomhar le Cruinniú na nÓg, TG4 agus Cúla4, a fhógairt go bhfuil clár/feachtas náisiúnta á sheoladh chun duine óg as gach contae in Éirinn agus duine amháin ón diaspóra a aimsiú le bheith páirteach i sraith físeán a dhéanfaidh ceiliúradh ar chruthaitheacht óige na hÉireann. 
Beidh deis ag na daoine óga a scéal pearsanta a insint, an caitheamh aimsire nó an ealaín a bhfuil siad paiseanta faoi a léiriú i sraith físeán atá físiúil agus spreagúil. Beidh an tsraith físeán seo le feiceáil ar TG4/Cúla4, ar mheáin shóisialta TG4 agus ar chainéal Youtube Cúla4 na laethanta roimh an gceiliúradh náisiúnta 'Cruinniú na nÓg' ar 12 Meitheamh. Deis iontach é seo do chruthaitheacht a léiriú don domhan mór agus an fáth a bhfuil tú chomh tógtha leis a roinnt leis an lucht féachana. 
Duine óg amháin as gach contae in Éirinn, atá idir 5-16 bliain d'aois, atá á lorg chun páirt a ghlacadh i gCruinniú na nÓg 2021. An bhfuil aithne agat ar dhuine óg atá paiseanta faoi ealaín, innealtóireacht, cócaireacht, códáil nó aon ábhar ealaíonta eile? Tá muid ag iarraidh do scéal a chloisteáil! 
Seol iarratas chuig   [email protected]   le grianghraf de do chuid oibre, físeán gearr (30' sec) nó litir chun tú fhéin a chur i láthair. 
Is é an spriocdháta do na hiarratais ná 21/4/21.
Tuilleadh eolas faoi Meangadh Fíbín ag www.fibinmedia.ie
Tuilleadh eolas faoi polasaí um cosaint leanaí Meangadh Fíbín -https://bit.ly/3czWzfV
Spriocdháta De hAoine 21 Aibreán 2021
Open configuration options