Council announces alternative Halloween events
Due to the postponement of the annual Festival of Flame in light of the ongoing restrictions due to the Covid19 pandemic, Fingal County Council has devised an exciting, fun and spooky programme of events for Halloween that is guaranteed to keep your little ghouls and witches entertained!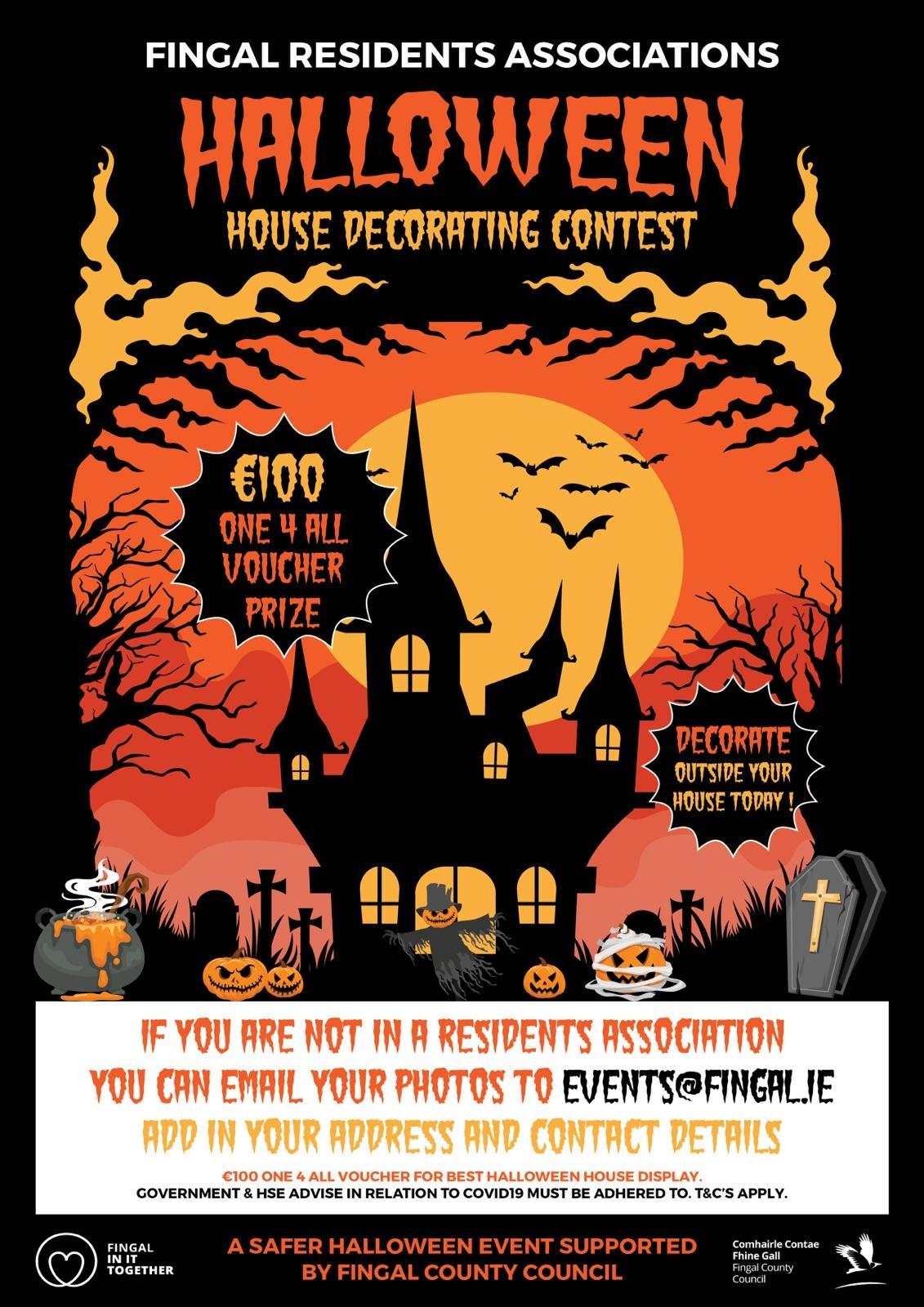 For those of you who love decorating your home at Halloween, the Events Office have launched a fantastic 'Spookify Your Home/Window' competition. Each residents' association that signs up to participate will receive a One 4 All voucher valued at €100 to give as a prize and will be responsible for judging the entries from their area. Following this, photos of the winning entries should be sent to:  eve%[email protected] " rel="nofollow"> [email protected] or www.facebook.com/EventsinFingal For questions please email: [email protected] Don't worry if you are not involved with a residents' association, you can email your photos of your Halloween inspired home/window to [email protected] with your address and contact details.
The Fingal Events Office has so far identified six locations in Fingal where spooky images will be projected onto our buildings to create an exciting visual light show for all to enjoy over the Halloween holiday. Some of the locations that have been confirmed are Newbridge Demesne, Portrane/Donabate Martello, Howth Martello, Lusk Round Tower, Rush Library and Swords Castle with suitability assessments being carried out in other locations around the county. Be sure to follow us on social media, @fingalcoco, for any updates.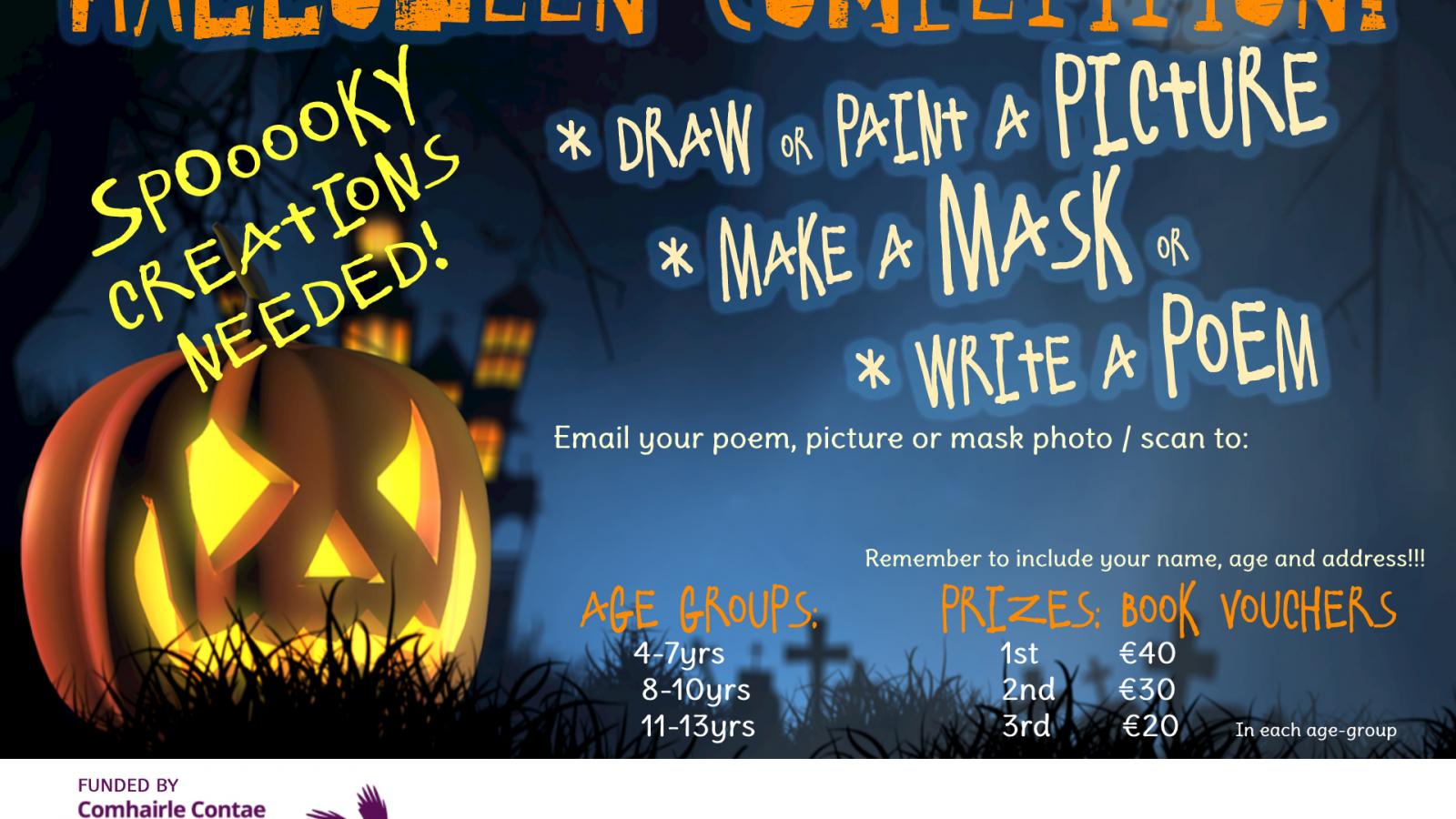 The Community Department is co-ordinating a Virtual Halloween 2020 Countywide Project which will see 27 Community Centres running Mask Making, Colouring and poetry writing competitions. There are three age categories: 4-7yrs, 8-10yrs and 11-13yrs and prizes for the winning entries will be book tokens. These competitions are a great way to engage with your local community centre and encourage children to get creative from their own home. Contact your local community centre to take part in the competition.
Young people are also invited to take part in making their very own creative masquerade masks with Jo May, the Creative Facilitator from ReCreate, using items you find at home. All sessions will take place on Friday, October 30 through Zoom and early booking is advised. Participants will need to collect and have ready for the session: Card, scissors, tape, glue, ribbon/string and are encouraged to bring other items such as: newspaper, egg boxes, toilet rolls centres, plastic lids and other materials to decorate the mask with.
To book any of the following Masquerade Workshop, please register here:
11:00 AM click here : Masquerade Mask Making Zoom Workshop 11am
12:30PM click here : Masquerade Mask Making Zoom Workshop 12:30pm
2:00 PM click here : Masquerade Mask Making Zoom Workshop 2:00pm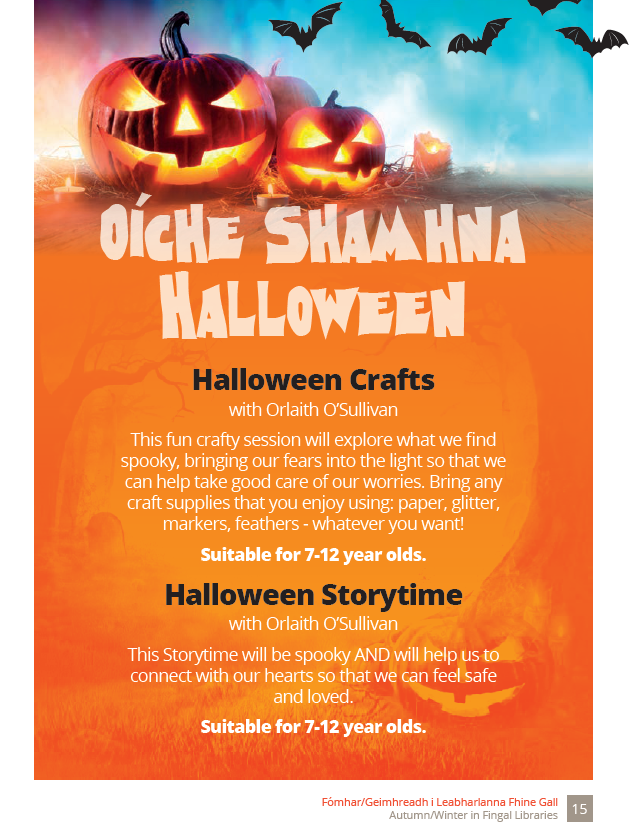 Our Libraries team have been working behind closed doors and invite you to join them for some delightfully spooktacular stories on their YouTube channel. Orlaith O'Sullivan will be reading for 7-12 year olds in what promises to be a spooky story with a happy ending! Orlaith will also be hosting a fun crafty session which will help 7-12 year olds explore what they find spooky, allowing them to address their fears and worries. These and other events can be found on the Fingal Libraries YouTube channel.
Mayor of Fingal, Cllr David Healy commented: "In these challenging times, it is important to find ways to celebrate the Halloween holiday safely, following public health guidelines. In many homes throughout the county, children will be participating in smaller family celebrations and perhaps even getting reacquainted with some traditional Halloween games instead of calling door to door. In light of the current situation, I welcome the events that Fingal County Council has organised in collaboration with our community centres, Fingal PPN and departments within the council and I hope that many of you will participate and embrace the spirit of the season. Wishing you all a happy Halloween."
Fingal County Council Chief Executive AnnMarie Farrelly said: "This year's Halloween festivities will certainly feel much different to previous years due to the current public health restrictions. The decision to postpone the hugely successful annual Festival of Flame was very disappointing but when time allows, we look forward to staging a fireworks themed event for everyone to enjoy. In the meantime, I hope you will join us remotely for a series of events to entertain and engage."
On the planned events, she continued: "There are fantastic opportunities to showcase creativity and imagination with house decorating, mask making, colouring and poetry writing competitions as well as online events from Fingal Libraries and a visual light show on some of our iconic buildings. However you spend the evening, I urge you to be safe, to follow public health advice and to have an enjoyable time."
For further details on our Halloween events,  follow us on Facebook or Twitter - @fingalcoco
Annual Halloween Amnesty at Recycling Centres