Castleknock and Balbriggan Dublin Discovery Digital Trails Update Launched!
Fingal County Council, in conjunction with Fáilte Ireland and Peel X, were delighted to launch two new digital heritage trails for Castleknock and Balbriggan that are now live on the Dublin Discovery Trails app!
The launch of the digital heritage trails for took place in County Hall in Swords on Monday August 14th as part of National Heritage Week. In attendance of the launch were Mayor of Fingal, Councillor Adrian Henchy, Deputy Chief Executive of Fingal County Council Ethna Felten, Fingal County Councillors Tony Murphy, Karen Power and Grainne Maguire, members of the Balbriggan and Castleknock historical, heritage, tourism and Tidy Towns communities, Fáilte Ireland representatives and proud Balbriggan native and popular R&B singer Soulé.
The two new digital trails bring the historic and cultural heritage of these areas to life through informative GPS-enabled technology. The app is free to download and encourages users to learn more about the history, culture, legends, significant events and people that have shaped Castleknock and Balbriggan. The app brings the information to life through researched history and uses animation, narration and Augmented Reality (AR), to create an immersive and enjoyable experience!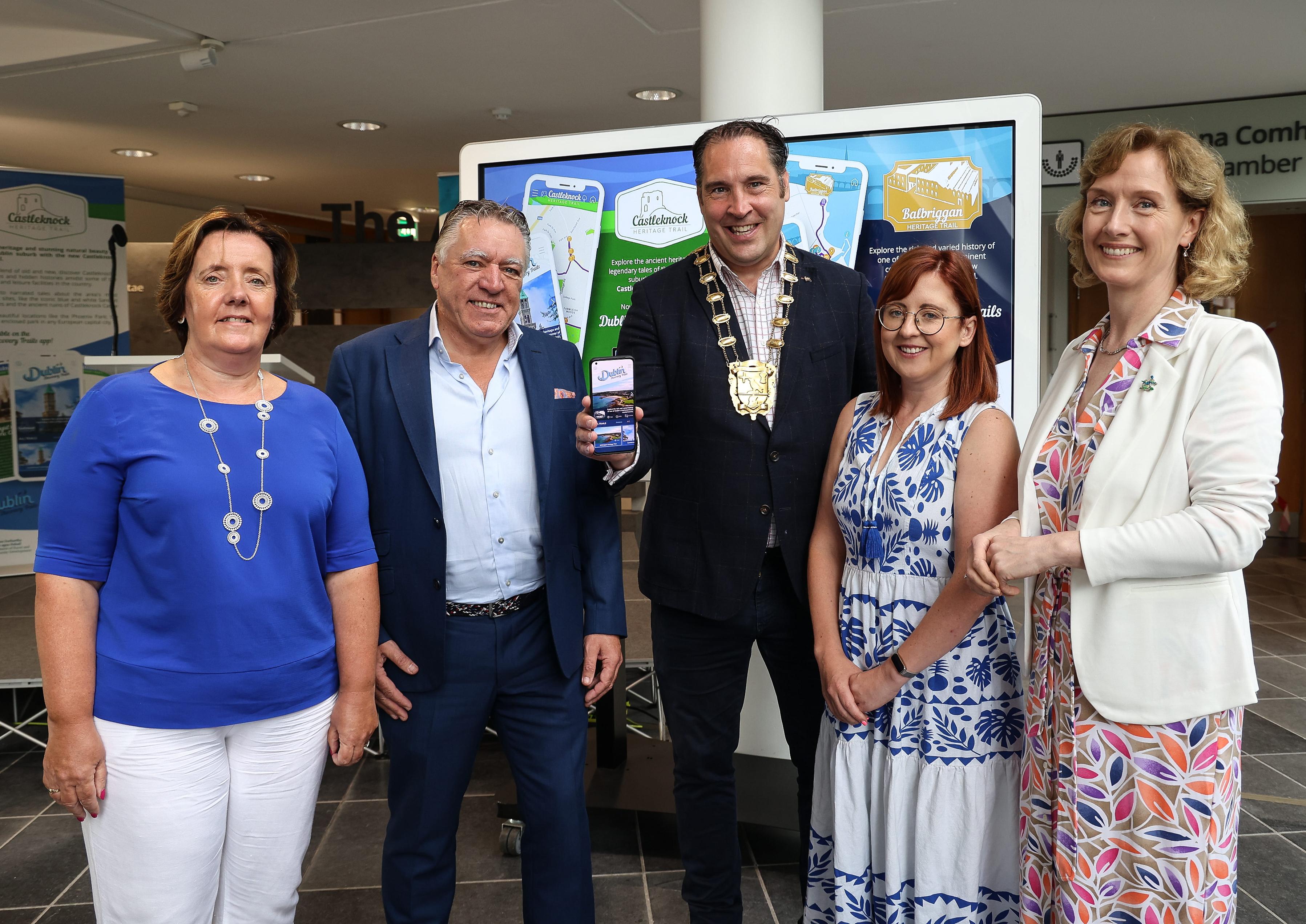 Speaking at the launch, Mayor of Fingal, Councillor Adrian Henchy praised the app, saying "This app combines the latest in user-friendly technology with historical research, allowing us all to take in more information quicker, easier, and in a much more enjoyable way. I can't wait to go out and use it again!"
These sentiments were echoed by Deputy Chief Executive, Ethna Felten who stated, "This app is undeniably a great asset to launch and have available during Heritage Week. The digital trails will inform visitors as well as our local communities about these towns' rich history and culture."
The Dublin Discovery Trails app is available on both iOS and Android, and the Castleknock and Balbriggan trails are now live within the free app. The app is aimed at both residents who wish to learn more about their areas, as well as tourists who would like to engage with the cultural history and heritage of these areas in a fun and accessible way.
For more information about this app, please visit:
https://apps.apple.com/by/app/dublin-discovery-trails/id1659992838 (Apple iOS)
https://play.google.com/store/apps/details?id=co.uk.peelinteractive.dublindiscoverytrails (Google Play Store)