Graphic Novels in Fingal Libraries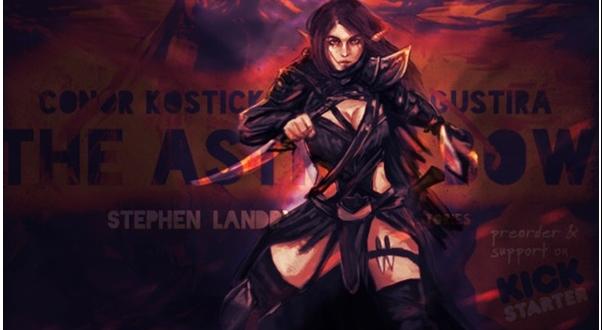 I was very excited to hear about Conor Kostick's new LitRPG graphic novel, The Astral Bow.  I had to find out more, so I spoke with Conor about his new venture.  For the uninitiated, LitRPG combines literary tropes, usually in Science Fiction & Fantasy with rules-based Role-Playing Games. "Like Ready Player One to take an example from popular culture", says Conor.  If you're familiar with his Avatar Chronicles trilogy, Epic[i], Saga[ii], and Edda[iii], you'll know he's fascinated with the crossover between our online lives and our 'real' life.  Particularly in situations where what happens online has a real-life effect.
His work has been so important to the genre that he was hired as Commissioning Editor for Level Up publishing[iv], an imprint of Ockham publishing that is dedicated to LitRPG.   "It's a place where death and murder aren't as important.  If your avatar dies, you respawn elsewhere.  Things do matter though.  Theft is a greater crime.  The central plot of The Astral Bow is about a heist in the virtual world where a treasury of valuable weapons has been stolen.  Our main character, Estrella, is hired to recover the items.  It's introducing the detective novel into that virtual world."
He has been working on the book with graphic designer Stephen Landry and illustrator Purwa Gustira. "Stephen wrote a book for Level Up, and had worked with Purwa before, so they came as a team", he says.  The trio have launched a Kickstarter campaign for the development of the book.  I've backed Kickstarters for other comics and graphic novels, particularly those of Irish authors.  I still get a thrill when I see my name printed in the acknowledgements of Garth Ennis' picturebook, Erf.  So, you can imagine how excited I was to hear that Conor Kostick was combining RPGs, fantasy, and comics.  Nerdvana, baby!
It's his first foray into graphic novels and he's been able to incorporate it into his previous work.  Estrella's investigations take her into the Epic game from the Avatar Chronicles.  "It's set in that world and, if we're successful, there will be a series of graphic novels with the next one being set in Bane, the game that Stephen's created".
Operating within an established world and set of rules was important for Conor because working in this medium is a new challenge for him as a writer. "It's my first graphic novel so I had to adjust my writing to suit the medium.  You can see the characters face.  I had to get used to leaving directions for the artist.  I have to write that her knuckles are white, rather than her heart beating fast to indicate the tension she's under.  You have to show her hands shaking to get the idea across. A book is so internalized, whereas the comic style is more cinematic".
The Astral Bow Kickstarter campaign runs until February 10th with the book due out in June.  Back it if you can afford to but as always, your local library has your back and you'll be able to request it through our website.  Conor has long been a friend to the libraries.  "Libraries are a great place to pick up graphic novels" he says, "Especially for young people.  They can be expensive.  You can often find me in that section".
[1]https://librariesireland.iii.com/iii/encore/record/C__Rb1164821__SKostick%2C%20Conor.__P0%2C19__Orightresult__X4?lang=eng&suite=def
[1]https://librariesireland.iii.com/iii/encore/record/C__Rb1164901__SKostick%2C%20Conor.__Ff%3Afacetcollections%3A3%3A3%3AFingal%3A%3A__P0%2C7__Orightresult__X4?lang=eng&suite=def
[1]https://librariesireland.iii.com/iii/encore/record/C__Rb1232845__SKostick%2C%20Conor.__Ff%3Afacetcollections%3A3%3A3%3AFingal%3A%3A__P0%2C2__Orightresult__X4?lang=eng&suite=def
By Marc McCluskey