Fingal Libraries Resources for Ukrainian Refugees in Ireland
Послуги Бібліотеки Фінгал для біженців з України (української спільноти)
Fingal Libraries extend a warm welcome to all Ukrainian refugees arriving in Ireland and our community.  Our libraries are trusted and inclusive spaces, safe, warm, welcoming, and FREE to use by all.  Please feel free to visit your nearest local branch where a staff member would be happy to assist you in all your enquiries about our services, joining or join online here.
Бібліотеки у містах: Balbriggan, Baldoyle, Blanchardstown, Donabate Portrane, Garristown, Howth, Malahide, Rush, Skerries and Swords Libraries.
Ми також запустили Мобільну бібліотеку, Сервіс для тих хто вдома та Місцеві навчання і архіви.
Вступ до бібліотек безкоштовний та відкритий для кожного.
Членство дає право вам позичати новинки серед книг, аудіо книг, DVD дисків та ігор!
Додаткові послуги включають:
Бібліотеки Фінгал надають безкоштовний доступ до всіх наших неймовірних електронних послуг та ресурсів онлайн:
Ми пропонуємо цифрові версії газет та журналів, потокове відтворення музики, електронні книги та аудіо книги, набір тексту, навчальні курси та багато іншого.
На приклад:
Our Online Resources
We have a large selection of FREE online resources which includes digital newspapers, magazines, comics, music streaming, eBooks, eAudiobooks, touch typing, educational courses and so much more.  This can be accessed anywhere, at any time on your personal devices.  All you need is your Library card and Pin Number.
Online books, magazines, and newspapers
BorrowBox

– this is

an extensive range of eBooks and eAudiobooks,

including a small selection of Russian-language titles, mostly suited to teenagers and children.
BorrowBox пропонує для членів бібліотеки Фінгал безкоштовний доступ до великого асортименту електронних книг та аудіо книг для дорослих та молоді.
2. LOTE Online for kids - a selection of books in 50+ languages, including Ukrainian and Russian for younger children.  We are exploring the possibility of adding more Ukrainian eBooks to this platform.
LOTE Online for Kids (для дітей) має 1500+ цифрових ілюстрованих книг на 50+ мовах (українською також). Книги та мови оновлюються кожного місяця, так що завжди є новий асортимент для вподобання.
Libby

- offers FREE access to over 3,000 digital magazines with up to three years of back issues. Navigation is easy, just click and go!
 Libby пропонує для членів бібліотеки Фінгал безкоштовний доступ до більше ніж 3000 цифрових журналів включно попередні випуски за останні три роки.
4. PressReader - provides unlimited access to thousands of newspapers and magazines from around the world, and it includes a selection of Ukrainian and Russian language publications.  PressReader offers instant translation in up to 18 different languages, for most articles and even full publications in as little as three clicks.
Log in to your library account.

Then simply click on the three dots in the far-right corner of the PressReader screen.
Select Interface Language and translate into the language you want.
Для більш детальної інформації стосовно асортименту електронних послуг перейдіть на сторінку бібліотеки Фінгал за посиланням https://bit.ly/eServicesFingal to register for our services.
Безкоштовний інтернет і Wi-Fi (необхідно номер та код картки бібліотеки)

Друк та копіювання (20/60 центів за сторінку)анування (20 центів за документ)

Заходи/ Книжковий клуб

Інформа стосовно місцевої історії/Місце для навчання

Оренда приміщень для вчителів/ Відвідування класів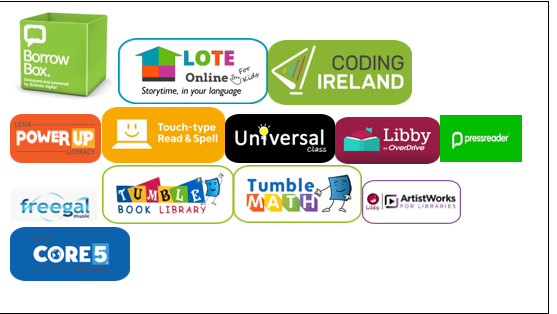 Meeting Rooms
Some of our bigger branches, Rush, Malahide, Balbriggan and Blanchardstown are inviting and offering new members of our community from Ukraine a weekly meetup space.  A welcoming space to speak in your own language, share stories and experiences or just come and enjoy a conversation.

English language classes in the meeting room at Rush Library for Ukrainians which is being organised by DDLETB.
Events and Activities
Fingal Libraries runs a range of free talks, workshops, and services across its branch network.

Check out the 

Fingal Libraries Spring 2022 Brochure

, some in our library branches and some online, and you're very welcome to join us for any of these.

Fingal Makerspace, an initiative supported by Creative Ireland, is a vibrant space in Blanchardstown Library where people of all ages come together to share notes, skills, and ideas, to access equipment and at the same time learning new expertise, all in a creative environment.