Digital Heritage Projects
The current circumstances have provided an opportunity to move a number of our heritage projects online. Below are pieces of oral history captured on video, drone films, an online exhibition and colouring book pages to download.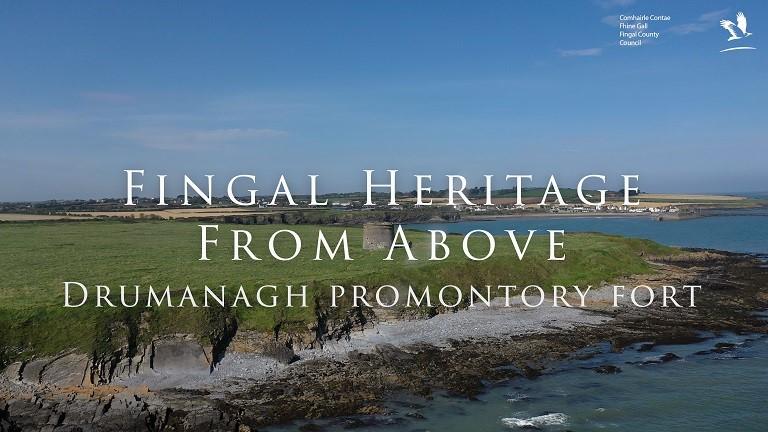 Fingal's Heritage from Above
The is a series of films featuring the heritage sites of Fingal that was launched during Heritage Week 2020. A collaboration between Mark Broderick, Digital Officer and Christine Baker, Heritage Officer the series begins with the intriguing stories of the Skerries Islands and continues with Drumanagh Promontory Fort and Newbridge Demesne.
Skerries Islands: https://youtu.be/AbtzS1YxRHI
Drumanagh Promontory Fort:  https://youtu.be/pDR_k2DTe5s
Newbridge Demesne:  https://youtu.be/jKPc16v1LcQ 
Balbriggan: https://youtu.be/UQbdtv9oxi8
Fingal Thatch Project Video
Fingal was renowned in the past for its thatched buildings. Unfortunately there has been a reduction in the numbers of thatched cottages and houses that survive. There is also an important social history aspect to the heritage of thatch from language and folklore to traditional skills. The Fingal Thatch Project 2022 is surveying and recording the surviving buildings and sharing the stories of thatch.
For #HeritageWeek2022 as one of our Fingal Heritage Digital Projects we are premiering our Fingal Thatch Project Video above
The Heritage X Climate Project
The Heritage X Climate Project is asking people across the county to get involved while out and about in their locality to help to monitor, measure and report the impacts of climate change on the heritage of the county. This is a means of engagement with the tangible impacts of climate change through the already familiar heritage features within the local landscape. Not only does the project raise awareness of the effects of climate hazards to beloved local landmarks of sites, monuments, geology, gardens and structures but provides a positive means for communities to monitor these effects and contribute to the response to climate change. For more details visit  Heritage and Climate Change
Fingal Heritage: Two Minute Talks 
A range of Fingal County Council staff who encounter heritage in their work, share short stories that shows the rich and diverse nature of heritage of Fingal form the curtains of Newbridge House to combining creativty and heritage
Karen de Lacey - Fingal Archives, The Burning of Coast Guard Stations in Fingal. https://youtu.be/hITeKlu-ILs
Fionnuala May – County Architect, The Newbridge House Curtains.  https://youtu.be/3pUJsJojM6g
Tricia Matthews - Creative Ireland and Heritage. https://youtu.be/8tGfS4fAmoU
Christine Baker – Heritage Officer, The Archaeology of Small Things. https://youtu.be/Z57n5d1lWuw
Caroline Cowley – Public Art Co-ordinator, The Perishable Picnic. https://youtu.be/aMPwNwkCpto
Bríd Ryan - Conservation and Remodelling works at the Casino, Malahide – a New home for the Fry Model Railway. https://youtu.be/4kWK7LEmV1M
Brian O'Connor – Stella's Tower & St. Catherines Church, Portrane. https://youtu.be/iq50ciLj1zc
Bernie Kelly – Irish officer, Ag ceiliúradh ár dteanga dhúchais, cuid lárnach d'ár noidhreacht chultúrtha / Celebrating our native language Irish a central part of our culture. https://youtu.be/8VQMsqIk3Mw
Duncan Henderson - Ardgillan Castle – Combining Heritage With Creativity. https://youtu.be/vVu8DcYD8oI
Helena Bergin - Architectural Conservation Officer,  Protecting Fingal's Architectural Heritage. https://youtu.be/zU69TtpQh4Y
St Doulagh's Church 3D Virtual Tour
The 3D Virtual Tour, developed by Resurrecting Monuments and the Friends of St Doulagh's provides online access to a self-guided tour of the church building and baptistry. The present church of St Doulagh's has elements from the 12th century with a series of later additions. The vaulted stone roof is at 68 degrees the steepest in Ireland. Associated with the anchorite St Doulagh, there is a hermit's cell in the entrance hall reputed to the burial place of the founder. An archaeological geophysical survey was undertaken in the surrounding fields in 2009 showed the church site was enclosed by a series of ditches, one of which was radiocarbon dated in to the mid-9th century. By the roadside is a short-armed granite cross that was formerly in the graveyard. Also, nearby are holy well, one of which is enclosed by an octagonal baptistry.
Access tour here: St Doulagh's Church 3D Virtual Tour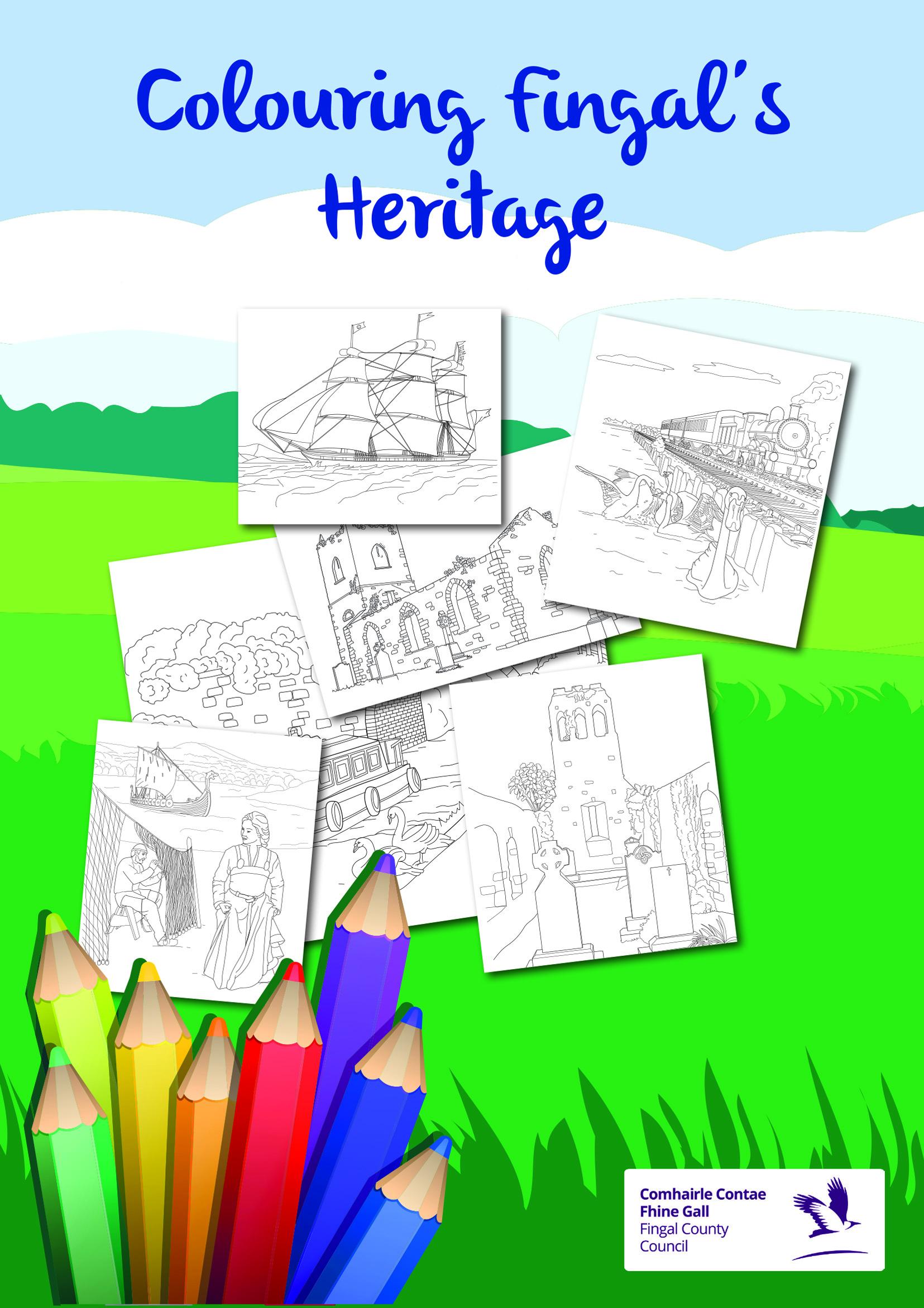 Colouring Fingal's Heritage
This colouring book depicts wonderful illustrations that capture the essence of Fingal's exceptional heritage. By matching cultural heritage with creativity this publication aims to introduce these sites and stories to new and varied audiences, both young and old(er)! Drawings are of varied detail to encourage all levels of colouring enjoyment. The majority of the sites included are open to the public and are there to be enjoyed by all the family. The project was undertaken by the Christine Baker, Heritage Officer in conjunction with Sara Nylund of Abarta Heritage. Copies can be collected from Fingal Libraries Week or you can download the individual pages here