Development Plan Frequently Asked Questions
In simple terms, a Development Plan is a spatial plan which guides the future development of a county for a six-year period. It contains certain policy objectives, land use zoning objectives and provides development management guidance.  
A Development Plan must also contain a Core Strategy which seeks to ensure that there is enough land zoned within the county to meet housing requirements. 
The Plan, its Core Strategy and its objectives must be consistent with National and Regional strategies. 
The review of the current Fingal Development Plan 2017 – 2023 began on 12th March 2021 and the process to prepare a new Development Plan for the period 2023-2029 will take almost two years, finishing in late March 
2023. 
An indicative timeline for the preparation of the new Fingal Development Plan is shown below.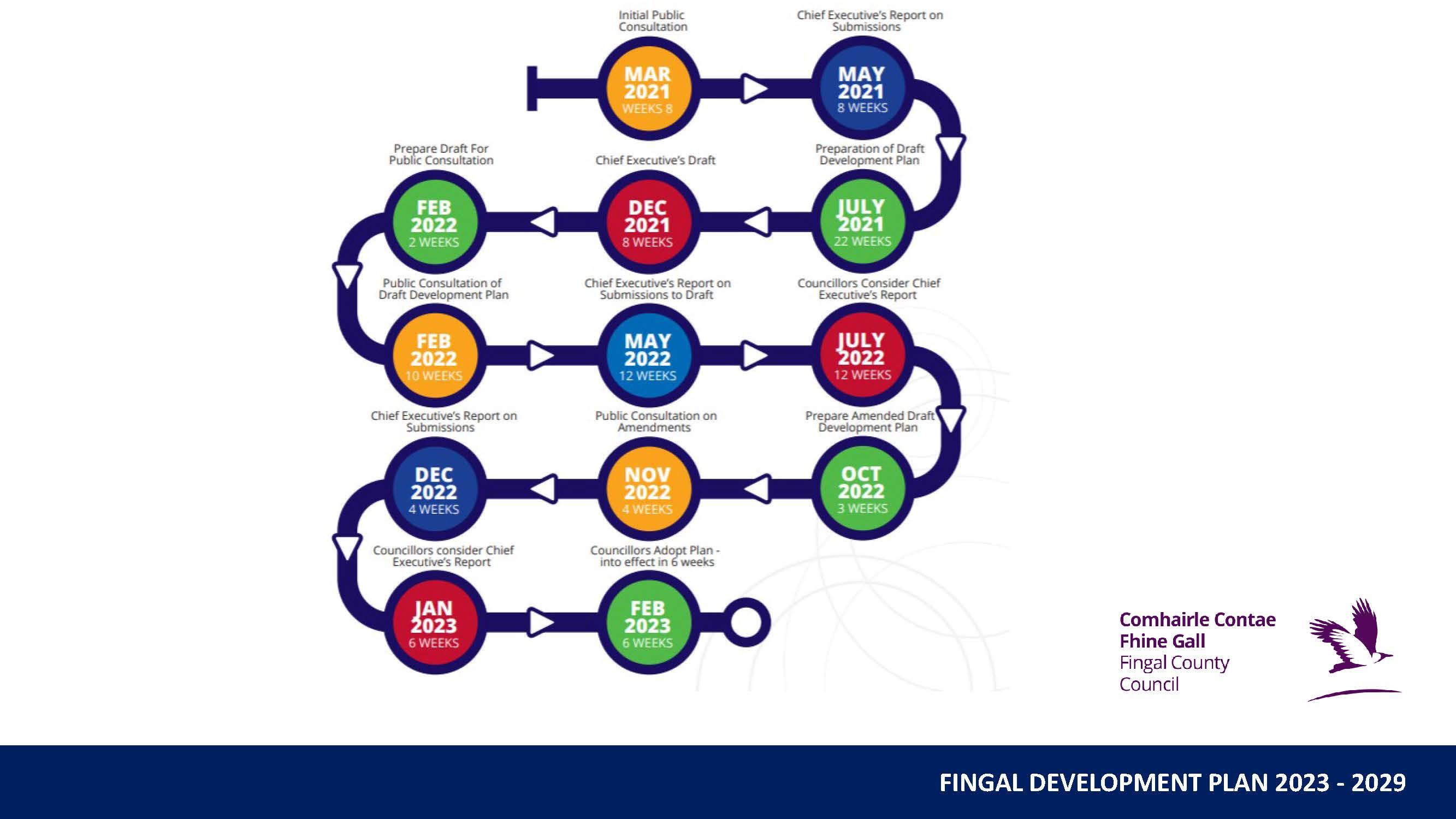 The Strategic Issues Paper is the first step in the making of the Fingal Development Plan 2023-2029. This high-level consultation document presents an overview of the main planning and development issues in Fingal. 
The Draft Development Plan was published on February 24th 2022 and is open to submissions from the public until May 12th 2022. When this consultation period ends Fingal County Council's Chief Executive will prepare a report on submissions received. That report will be issued to the Elected Members for their further consideration over a period of 12 weeks from July 2022. An amended Draft Development Plan will be issued in October 2022 and once again the public will be invited to submit their views before the final amendments are made and the approved plan is published in early 2023. 
The Development Plan website / Consult Fingal portal and the Interactive Virtual Consultation Room may not function for a number of reasons, often a simple refresh of the page will reload it without any issues. 
Some of the suggestions that may remedy your issue include: 
Opening on one of the following browsers e.g. Chrome, Firefox, Safari or Edge. It is recommended that the Virtual Consultation Room be viewed using Chrome. 
Please ensure that you have accepted the terms and conditions by ticking the box. 
In the event that you continue to experience difficulties, please contact  [email protected]  
In the event that your question has not been addressed here, please contact  [email protected]  or Phone 01- 8905000 from Monday to Friday (excluding weekends and Bank Holidays).