The Wonderful World of Podcasts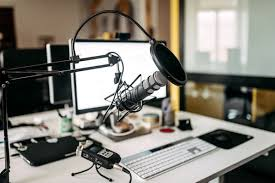 These days we are all spending more and more time sitting and looking into screens. It's how we work and for many of us how we relax. If you're looking for a way of entertaining yourself while giving your poor eyes a break, then why not try a podcast? They can be listened to while walking, training, cooking, cleaning, eating, taking a bath… The list goes on and the range of topics covered is vast meaning there is something for everyone. The best part is that it's free!
The quality of content can vary a lot and ranges from professionally produced podcasts featuring leading experts in the sciences to those recorded by amateur historians from their back-garden sheds! Fingal libraries even has its own podcast called Fingal Libraries Show which can be found here. The show is usually in an interview style and covers everything from book reviews to how to use library eservices. There are also a few special episodes on historical and environmental topics.
The world of podcasts may seem overwhelming, but this post will guide you through getting set up to subscribe to channels and shows while also providing a few recommended shows to get you started.
Firstly, there are several platforms you can use to listen to podcasts on. The easiest and best way to listen is through a podcast app on your mobile device. If using an android device, you can download the Google Podcast App or if you have a Spotify account this can also be used. If you use an Apple device on the other hand you can listen through either iTunes or The Podcast App. These apps will allow you to search for themes and topics you are interested in. If you find a podcast you are interested in, you can subscribe which means you will have access to all the past episodes as well as automatically downloading newly released episodes. You can subscribe to multiple podcasts to create a library of shows to choose from. If you don't have a mobile device you can download apps including Spotify, iTunes, CPod and Groover Podcast for your desktop device.
After you have set up your app the next step is to get listening! You can search a topic you are interested in and listen to bits of different podcasts to see if you enjoy how the content is presented. However, if you're not sure what to listen to there are some recommended shows.
A Few Irish Interest Shows:
A Few Wellness Shows:
Happy listening!
- Aoife Walshe.