Civic Amenity Sites Provision (Recycling Centres)
Please be advised that Coolmine Recycling Centre has been and continues to be extremely busy since Covid-19 restrictions.
Opening times are 9am to 4pm but please note that the last entry time for vehicles is 3.45 pm and we have erected signs advising of this.
Please remain patient as we deal with greatly increased activity.
Coolmine Recycling Centre: Coolmine Industrial Estate, Dublin 15.  Beside Coolmine Fire Station.
Telephone: (01) 890 5986
Estuary Recycling Centre: Swords, beside Swords Business Park
Telephone: (01) 890 5985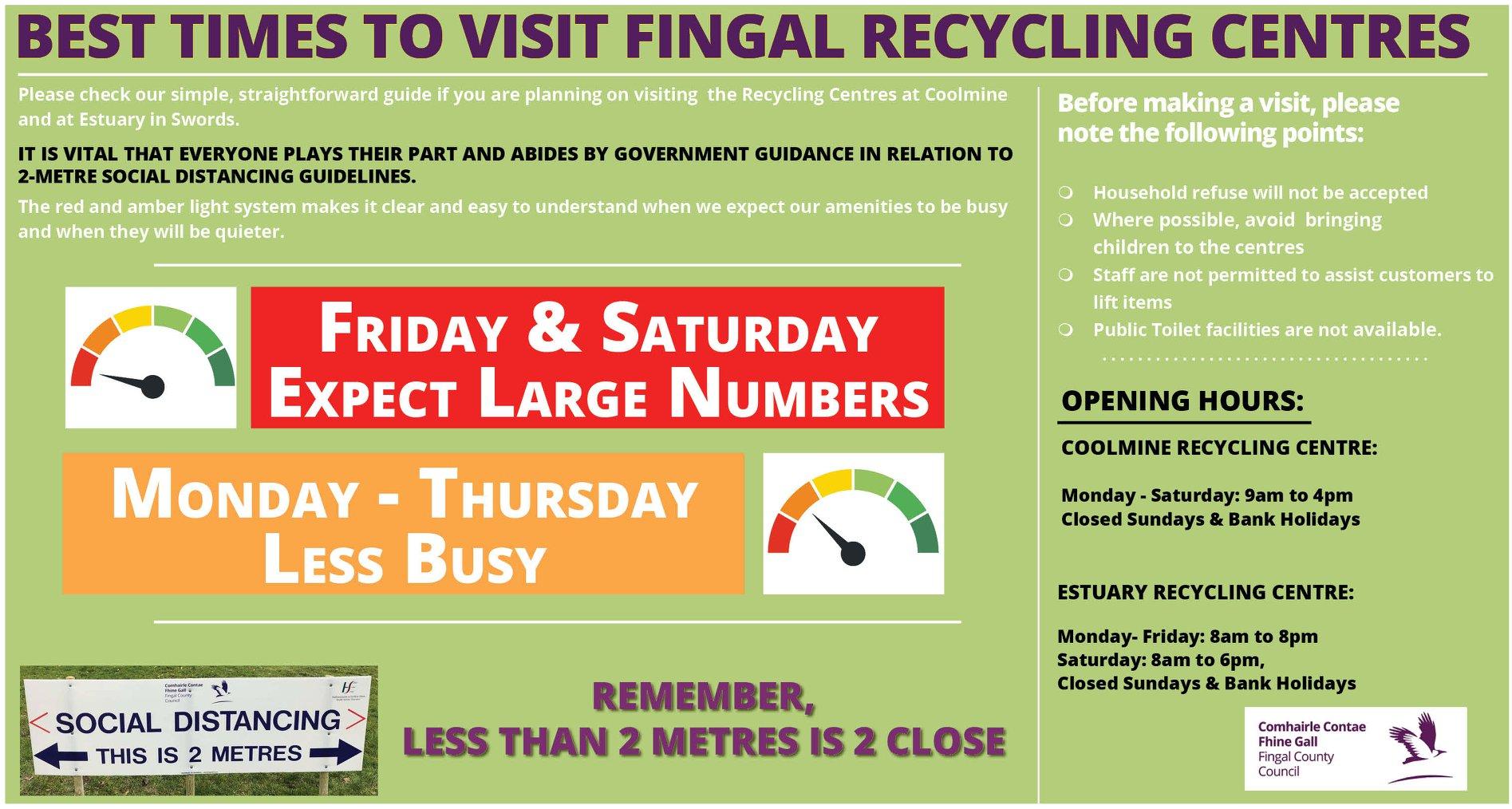 The Coolmine Recycling Centre is open from 9am to 4pm (last vehicle entry 3.45pm) from Monday to Saturday. It is closed on Sundays and Bank Holidays.
The Estuary Recycling Centre is open from 8am to 8pm from Monday to Friday, (last vehicle entry 7.30pm) and from 8am to 6pm on Saturday (last vehicle entry 5.30). It is closed on Sundays and Bank Holidays.
 Please note: During bad weather, the recycling centres may have to close for health and safety reasons.
Recycling centres are for household waste only. Commercial waste not accepted.
If you have Items you want to get rid of which are in good condition then consider donating to a charity or selling the items via an online marketplace website, a community noticeboard or an advertisement in your local newspaper.
paper
cardboard
cartons
tins and cans
glass bottles and jars
plastic bottles – they should be washed and squashed with tops removed
clean plastic packaging
clothes
Waste Electrical and Electronic Equipment
fluorescent tubes and energy-saving bulbs 
car and household batteries
cooking oil and engine oil
bulky waste (e.g. Furniture, carpet, mattresses)
wood
metal
green waste (restricted to cars and small trailers)
soil and stones
duvets and pillows
household hazardous waste (paint, herbicides, household cleaners etc.)
Car boot: €8 (€4 for green waste only)
Full car: €16 (€8 for green waste only)
Car-van / car and small trailer (max. 6ft x 4ft x 2ft): €40 (€24 for green waste only)
Small van (max. 212 cubic feet): €128 (not allowed for green waste)
If you only have Household Hazardous Waste, the charge is €4
You can pay at the recycling centre by debit/credit card. If you don't have a debit/credit card, you can consider using a prepay card like the O2 Money Card or Payzone Card.