Biggest-ever' National Women's Enterprise Day set for October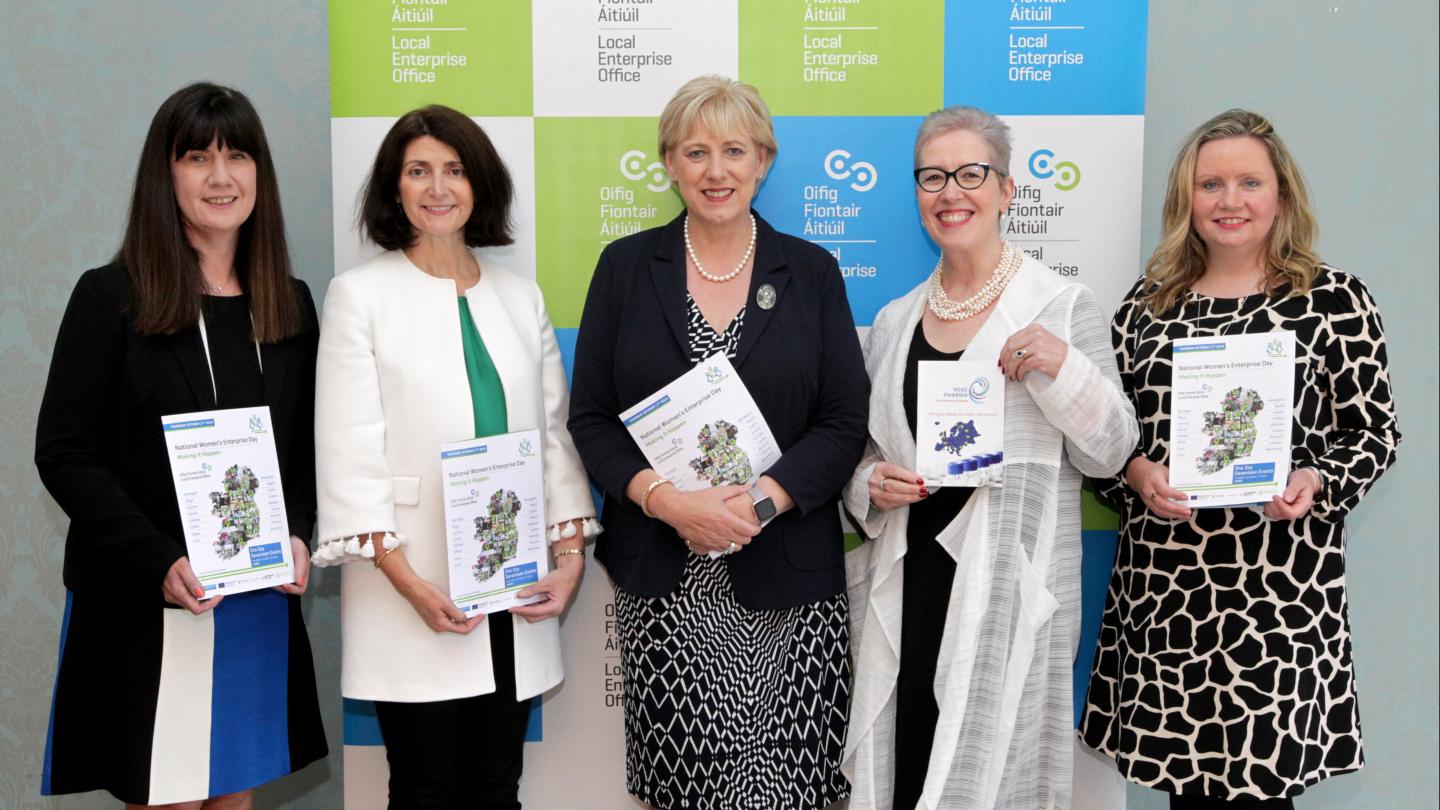 The Minister for Business, Enterprise and Innovation, Heather Humphreys, T.D., has launched the biggest-ever programme of events to mark National Women's Enterprise Day (NWED) on Thursday, October 17th. Local Enterprise Offices (LEOs) are organising 17 entrepreneurial events across the country under the theme of 'Making It Happen', funded by the Government of Ireland in partnership with Enterprise Ireland and Local Authorities.
To mark NWED 2019, LEO Fingal is organising a major event on behalf of the four LEOs in the Dublin region. Billed as "the biggest networking event for female entrepreneurs in the country", the event will feature a variety of inspirational speakers, a lively panel discussion and plenty of opportunities to network with other female entrepreneurs and business owners. Guest speakers include: Caroline Keeling, CEO of Keelings; Siobhan Murray, author and resilience coach; Krissy Gibson, CEO of Take the Cake; Niamh Sherwin-Barry, Director of the Irish Fairy Door Company, and Melanie Boylan, Director of STOMP Social Media Training. An excellent line-up of female business panellists will also feature: Jo Harpur, CEO of Jo Harpur Jewellery; Emer Cleary, Founder of Emu Ink Publishing; Aimee Madden, CEO of Clinishift; Jessica Conlon, Founder of Twigs; and Jenny Melia, Business Development Manager at Enterprise Ireland. The Dublin Region NWED Ambassador for 2019 is successful entrepreneur Ann McGee of MIAS Pharma.
Figures released by LEOs to coincide with the launch reveal that 21,859 female participants took part in training programmes with their LEO in 2018, an increase of 18% on 2017 figures. There was also a big increase in the number of female entrepreneurs benefiting from business mentoring through their LEO last year - from 3,832 in 2017 up to 4,565 in 2018 (up by 19%).
On October 17th, NWED Ambassadors will be sharing their success stories at events in Carlow, Cavan, Clare, Cork, Donegal, Dublin, Galway, Kildare, Kilkenny, Leitrim, Meath, Monaghan, Offaly, Sligo, Waterford, Wexford, and Wicklow.
Heather Humphreys T.D., Minister for Business, Enterprise and Innovation said: "I am delighted to announce the biggest ever programme of events for National Women's Enterprise Day, which will take place at 17 events around the country on Thursday, October 17th. Ireland has some of the world's finest women in business. We want to showcase their wonderful work to encourage more women to get into business. Supporting and fostering female entrepreneurship is a priority in Future Jobs Ireland, our whole-of-Government plan to prepare our businesses and workers for the future. Last year, the LEOs provided training to 22,000 female entrepreneurs but we want to see these numbers grow even more."
Oisín Geoghegan, Chair of the LEO Network and Head of Enterprise in Fingal said: "The theme for this year's National Women's Enterprise Day on October 17th is 'Making It Happen' and we want to highlight all the supports that can 'make it happen' for women in Dublin that want to start or grow their business over the next year."
He continued: "It's great to see that nearly 40% of new business owners in Ireland are women, showing that the gender gap is narrowing according to the latest Global Entrepreneurship Monitor report**. Through the 31 Local Enterprise Offices, we saw a higher take-up of supports by female entrepreneurs last year – from those that were looking to start a new business venture by themselves to those that wanted to grow an existing family business."
Minister Humphreys met nine NWED Ambassadors at the NWED programme launch, which was hosted by LEO Cavan at Hotel Kilmore. These included Vicki O' Toole of JJ O' Toole in Limerick (Ambassador for LEO Cavan event); Liz Christie of Hand-woven in Ireland in Monaghan (Ambassador for LEO Monaghan event); Kate Gaynor of The Paint Hub in Carlow (Ambassador for LEO Carlow event); Dr. Wendy Oke of TeachKloud in Cork (Ambassador for joint LEO South Cork/ Cork City/ Cork North & West/ Kerry event) and Ann McGee of MIAS Pharma in Fingal (Ambassador for joint LEO Fingal/ LEO Dublin City/ LEO DLR/ South Dublin event).
The Minister also met with Georgia Visnyei of the Art of Coffee in Leitrim (Ambassador for LEO Leitrim event); Emma-Rose Conroy of EuroStallions Ltd in Offaly (Ambassador for joint LEO Offaly, Laois, Longford and Westmeath event), Lorraine Murphy of Lorraine Murphy Coaching and Training in Meath (Ambassador for LEO Meath and Louth event) and Mary B. Walsh of Ire Wel Pallets Ltd in Wexford (Ambassador for LEO Wexford event).
Local Enterprise Offices were represented at the programme launch by Orla Martin of LEO Offaly, Marcella Rudden of LEO Cavan; Enterprise Ireland was represented by Gillian Slattery of its HPSU Division and Local Authorities were represented by Lynda McGavigan of Cavan County Council.
For more information on NWED and to book a place online for the Dublin event, go to www.localenterprise.ie/Fingal or search #NWED on social media. The Dublin NWED event is funded by the Local Enterprise Offices and Enterprise Europe Network. Subsidised tickets are currently available at the nominal rate of only €25. Places are limited, so early booking is strongly advised!