Applications now open for financial assistance for Festivals and Events taking place in Fingal in 2021
Members of community groups and organisations across Fingal are being invited to let their creativity and imaginations run wild, dust off the disappointment of 2020 and begin to plan for next year.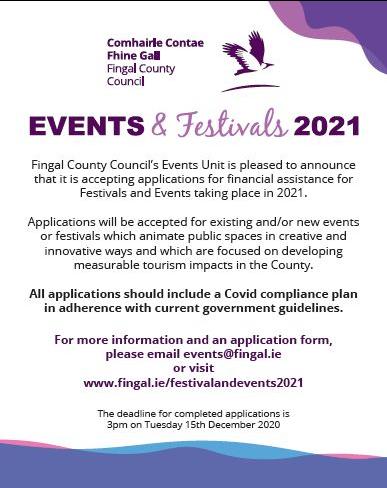 It's time for them to put their thinking hats on and start planning for 2021 when restrictions will hopefully be eased and much-missed events and festivals can return to the calendar.
If you have an idea for a new event for 2021, or simply want to re-invigorate and re-energise an existing event, it's time to start planning ahead because there's a wonderful opportunity under Fingal County Council's Events and Festival financial assistance scheme to get some support.
Applications from groups and organisations seeking financial assistance from Fingal County Council's Events Section for Festivals and Events taking place in 2021 will close on Tuesday, 15 December 2020, at 3pm.
Applications will be accepted for existing and/or new events or festivals which animate public spaces in creative and innovative ways, and which are focused on developing measurable tourism impacts in the County.
Interested parties must meet several other eligibility criteria including:
Have a Covid-19 compliance plan in adherence with current government guidelines.

Have a general audience appeal and be socially inclusive.

Clearly demonstrate potential to generate economic, social and/or cultural benefits.

Complement the County's calendar of events in relation to attracting overseas' visitors.

Meet the Events Unit's objective of compiling a varied programme of events throughout the year including content, seasonal and geographical spread.

Demonstrate financial sustainability and the capacity to develop the event.

Have a clear PR and marketing plan including a social media strategy to actively promote the event.
Fingal County Council's Events Unit supports tourism through the Fingal Statement of Tourism Strategy 2017 - 2022 and businesses in our towns through a wide-ranging programme of events.
The closing date for applications for funding is on Tuesday 15 December 2020 at 3pm for events taking place in 2021.
For more information and an application form, please email [email protected] or visit www.fingal.ie/festivalandevents2021