My Favourite Bakes - Part 2
My Favourite Bakes continued…
Sponge cakes, muffins and buns
I just can't call buns cupcakes.  Sorry but they are buns with icing, and they cost silly money.  As I mentioned before, I don't like icing, but I usually make some vanilla buns for special occasions such as parties with a small amount of vanilla icing on them.  In my experience most people prefer that.  I visited the Hummingbird Bakery in London and it was lovely.  I think we are all looking forward to travelling again soon and I cannot wait.   In the meantime, here is a slice of American indulgence.  I enjoyed the second book better than the first one.  it is called Cake Days.  There are a lot of American style bakes in it.  https://www.mummypages.ie/recipes/hummingbird-bakery-vanilla-cupcakes
I love lemon flavoured cakes and lemon drizzle cakes always go down really well with people.  Rachel Allen's Cake book is quite good for lots of recipes but the lemon poppyseed one is a massive hit in my house.  You can make this using a bundt cake tin or make some muffins instead.  I shall talk some more later about bundt cake tins, I love them.  I cannot get a link online for this one so I'm afraid you'll have to reserve the book in the library! I can however share this online recipe from the same Rachel Allen's book. it's a handy one to have, it's like a sponge version of a bakewell and it's nice and light.
https://www.rte.ie/lifestyle/recipes/2013/0121/744621-bakewell/
Another reliable bake recipe is this summery cake from Lisa Faulkner's book "Recipes from my Mother for my Daughter".  This cake is delicious eaten warm with some ice cream.
https://www.goodto.com/recipes/lisa-faulkner-s-fantasy-cake-recipe
Mary Berry has another to-die-for drizzle cake recipe https://www.maryberry.co.uk/recipes/baking/lemon-drizzle-traybake
Rick Stein is another favourite of mine and I love this gluten free orange cake.  The first time I made it I was a bit dubious about using the orange skins but trust me it is delicious. https://www.bbc.co.uk/food/recipes/clementine_and_almond_72249
A good sponge recipe is a must and I use Lily Vanilli's "Sweet Tooth" book for this lovely airy sponge.  You can then do what you want with it.  I recently used a meringue type icing with it for a birthday celebration and it was gorgeous.  https://www.bakingmad.com/recipes/cakes/sponge-cakes/ultimate-summer-berry-cake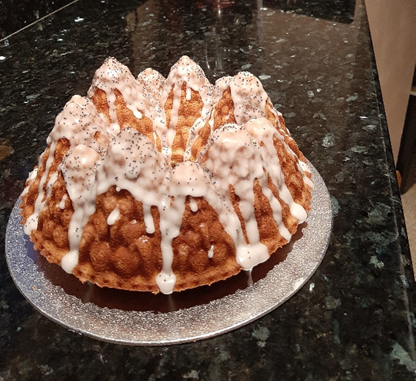 The trick with bundt cake tins is to use a non-stick spray and recipes that contain oil or sour cream. 
Here is a good chocolate one, https://www.deliciousmagazine.co.uk/recipes/chocolate-and-soured-cream-bundt-cake-with-ganache-topping/
I did not bother with the ganache because it was lovely as it was.  If you use the non-stick spray you can then use a sprinkling of cocoa for chocolate cakes and flour for everything else just to help them not to stick. 
Cheese cake – I am not a fan but my husband is, so this bake from Nigella is a handy one to have.  The sour cream on top works well.  Also, the Hummingbird bakery books have nice recipes as well.  https://www.nigella.com/recipes/london-cheesecake
Gingerbread – this recipe from Nigella again is great.  It lasts for about 2 weeks in a tin and just gets stickier.  it is a favourite of my family at Christmas time.  https://thelegendarybrownie.com/2017/02/20/nigellas-sticky-gingerbread/
There is a fun zebra cake from Dónal Skehan, and not as much hassle as you would think https://donalskehan.com/recipes/zebra-cake/
A good old-fashioned Irish apple tart https://www.odlums.ie/recipes/apple-tart/
My mother always swore by using cookeen as the fat in the pastry and her pastry was beautifully flaky so give that a go if you like.
A few tips:
Always read the full recipe first. YouTube is great too if you are unsure.
Line cake tins well.

Be sure to check the temperature indicated in a recipe.  It may be different for a fan oven or whatever oven you are using.

Always be patient.  Allow the cake to cool in the tin for 10 mins or so before taking it out to place on a wire rack.

Do not open the oven especially not in the first 20mins from when you put your cake in.

Have your ingredients at room temperature (butter, eggs)


 
I could go on forever and I am sure I have left out some great cakes and books, but I hope this can be a useful resource to have.  There are some fantastic baking books out there, but it is a saturated market and can be a bit overwhelming.  The libraries have a massive selection of baking books and the online magazines are also another great place to flick through some wonderful recipes. https://www.fingal.ie/council/service/fingal-library-eservices-and-eresources-online