Love your Library this Valentine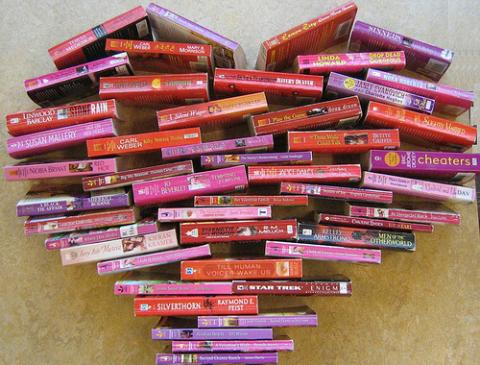 Sometimes when we talk about Valentine's Day, we immediately picture greeting cards, romance and chocolate. But Valentine's Day is a good reminder to tell all our loved ones (not only our sweethearts) how glad we are that they're in our lives. It's also a great opportunity to spread love and kindness in our community. We appreciate the love you show Fingal Libraries every day of the year, as users, advocates, borrowers and supporters. Valentine's Day is an opportunity to let you know how much we care.
During the month of February, we invite you to share the love in many ways with special events, such as the Sensory-Friendly events and story-time, arts and craft for children and workshops during Engineers Week starting at the end of February. Or just visit us to check out a book —it always warms our hearts to see you. 
Just in case you are struggling to make up your mind on a good book/movie this Valentine, check out the list of classics to the breathless reads of today's masters, or my list of the greatest romance movies of all time.  There's something for everyone.
Classics to the modern-day romance reads

Greatest romance movies of all time

Gone with the Wind

Margaret Mitchell

1. Casablanca

 

Pride and Prejudice

Jane Austen

2. West Side Story

The Thorn Birds

Collen McCullough

3. Titanic

Outlander

Diana Gabaldon

4. Shakespeare in Love

Jane Eyre

Charlotte Bronte

5. Wuthering Heights

It Ends with Us

Collen Hoover

6. Ghost

The Kiss Quotient

Helen Hoang

7. Dirty Dancing

Me Before You

Jojo Moyes

8. The Notebook

The Hating Game

Sally Thorn

9. Pretty Woman

Every Breath

Nicholas Sparks

10. Breakfast in Tiffany's
All these book titles / DVDs are available on the Fingal Library catalogue or visit one of the Fingal Library branches nearest to you.
Songs have been written about every topic imaginable, but the best ones, from swooning '50s ballads to contemporary club bangers, have been penned about the ups and downs of being in love, from " I will always love you" by Whitney Houston, "Crazy little thing called love" by Queen, "Because you loved me" by Celine Dion, "Bleeding love" by Leona Lewis, "How deep is your love" by Bee Gees to "We found love" by Rihanna. 
It's sonic proof that while fads and fashions will change with every generation, love, and the songs inspired by it, will never go out of style.  You'll find something of interest on FREEGAL – Fingal Libraries music streaming and download service.  It's FREE and you can access it using your Library card and Pin number.  Streaming is unlimited while your weekly download limit is set at 5MP3 downloads.  The App can be downloaded on Android and Apple devices and is incredibly easy to navigate.
Love you Library this Valentine!