A Fingal Glossary from 73 years ago…
Do you know what gollockers are? Perhaps you fancy yourself as a dibby-dab at something? The meanings of these unusual words can be found in a fascinating glossary of North County Dublin terms published by Béaloideas, the journal of the Folklore of Ireland Society, in 1947. Orla from Malahide Library selects a few terms which you may still recognise.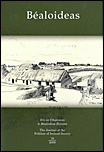 Béaloideas, which first appeared in 1927, was set up to collect, preserve and publish the folklore of Ireland. The glossary features 348 words collected by Patrick C. O'Neill with introductory notes by J. J. Hogan.  Hogan writes, "Mr. O'Neill's glossary was carefully made from his own observations in the district. It contains a number of very interesting words, some of them perhaps purely local. The proportion of Irish words, and English words which in Britain belong to northern speech is considerable". Some of the "purely local" terms in the glossary may well have their origin in Fingallian - a dialect formerly spoken in North County Dublin which was an offshoot of Middle English, introduced to Ireland after the Norman invasion. This relic form of medieval English was extinct by the nineteenth century and Hogan notes that its traces are "few and doubtful".  However, he surmises the word 'mot', meaning a stem of grass or straw, may be an example. Below is a selection of terms from Patrick O'Neill's glossary:
Baw-ways - Crooked, awkwardly. He did it baw-ways = wrong.
Bulkyshawn - Ragwort, ragweed (from the Irish balcaiseán).
Bumming his chat - Acting the flatterer.
Colloping - Uneven, awkward, cutting of meat or bread. You're only colloping at it.
Dibby-dab - Expert, dab. You're no dibby dab at it at all.
Fan - Van (Hogan notes that the substitution of f for v as in fan for van or ferry for very seems to represent a local sound change).
Go-boy (gó-bai) - A sly fellow who goes about doing harm in secret.
Gollockers - Eyes.
Hardy cullen- A man who can endure great bodily hardship.
Irock- Rawness of the hands in cold weather (from the Irish oighreach).
Johnnie Magories - Hips of the wild rose.
Kippins - Dry twigs for kindling (from the Irish cipín).
Launa-wallya - Something to think about, a "bellyfull".  I gave him Launa-wallya.
Mack - Address to an unknown man. Hey, Mack = Hey, mister.
Mot - a stem, as of grass or straw.
Mullucking - Doing heavy work, especially in mud.
Pappy - bread and milk as food for children.
Puggle - (noun and verb) puzzlement; to puzzle.
Randyvoo - A house where the neighbours gather for a chat or a house where people meet for mischief (rendez-vous).
Shrockrawn - On the Shrockrawn = staying away from home because of mischief done (usually of children) (from the Irish seachrán).
Skeow-ways - Obliquely, diagonally. He went skeow-ways down the field.
Tint / Tent - a drop, a small quantity of drink.
Too-roo - A noisy squabble, a hullabaloo.
Wood-quest - Wood-pigeon.
Yubby-yubby - Call to turkeys at feeding time.
(Hogan, J. J.; O'Neill, Patrick C. 1947. A North County Dublin Glossary. Béaloideas Iml. 17, Uimh 1/2, Meitheamh-Nodlaig, 1947 pp. 262–283).
Back issues of Béaloideas can be accessed online at JSTOR - a digital resource of academic journals, books, and primary sources. Free access to JSTOR is available at your local library branch: https://www.jstor.org/journal/bealoideas