Ardgillan Castle Presents An Afternoon with Paul Kimmage, Susan McKay and Anne Cassin
Ardgillan Castle Presents An Afternoon with Paul Kimmage Friday 22nd September. Susan McKay Saturday October 7th and Anne Cassin Friday October 13th, all at 3pm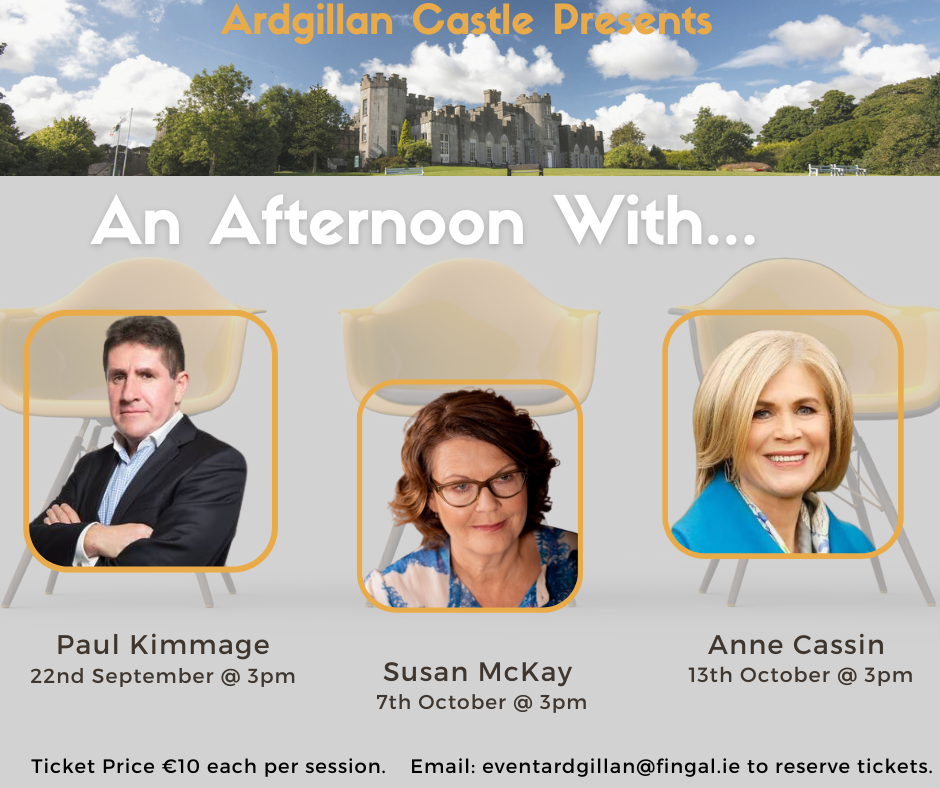 This Autumn, following a nine-month period of intense conservation works on the castle building, Ardgillan Castle is marking the commencement of the next chapter in its long life by staging three separate conversations with three quite different personalities from our hinterland - namely, Paul Kimmage, Susan McKay and Anne Cassin. (Details of other Autumn events/activities will follow.)
The interviews will be hosted in the opulent castle Drawing Room by the journalist and celebrated children's book author Shane Hegarty, who has a studio in the east tower of the castle. All three guests and our host have kindly agreed to appear for no fee. The Board of Ardgillan Castle will donate the entire proceeds from the three events to local charities.  
Paul Kimmage is an award-winning sports journalist, a former Olympian, and has written a number of critically acclaimed books. Throughout his journalistic career Paul has been highly-respected internationally as a trenchant campaigner for the removal of the doping culture from sport.
Anne Cassin, who was reared a mere stone's throw from the gates of Ardgillan is also a journalist and is best known as one of the anchor presenters of the RTÉ show, Nationwide. Ann was educated at the Loreto College, Balbriggan and has an intimate affinity with the castle and its environs.
Derry-born award-winning writer, journalist and documentary maker Susan McKay was recently appointed as the new Press Ombudsman. Susan is the author of several highly acclaimed books, including the bestseller Northern Protestants and is a former Director of the National Women's Council of Ireland.
An Afternoon with Paul Kimmage is on Friday 22nd September at 3pm
An Afternoon with Susan McKay is on Saturday 7th October at 3pm
An Afternoon with Anne Cassin is on Friday 13th October at 3pm.
Tickets are limited and are expected to sell out quickly and are just €10 each. Please email [email protected]