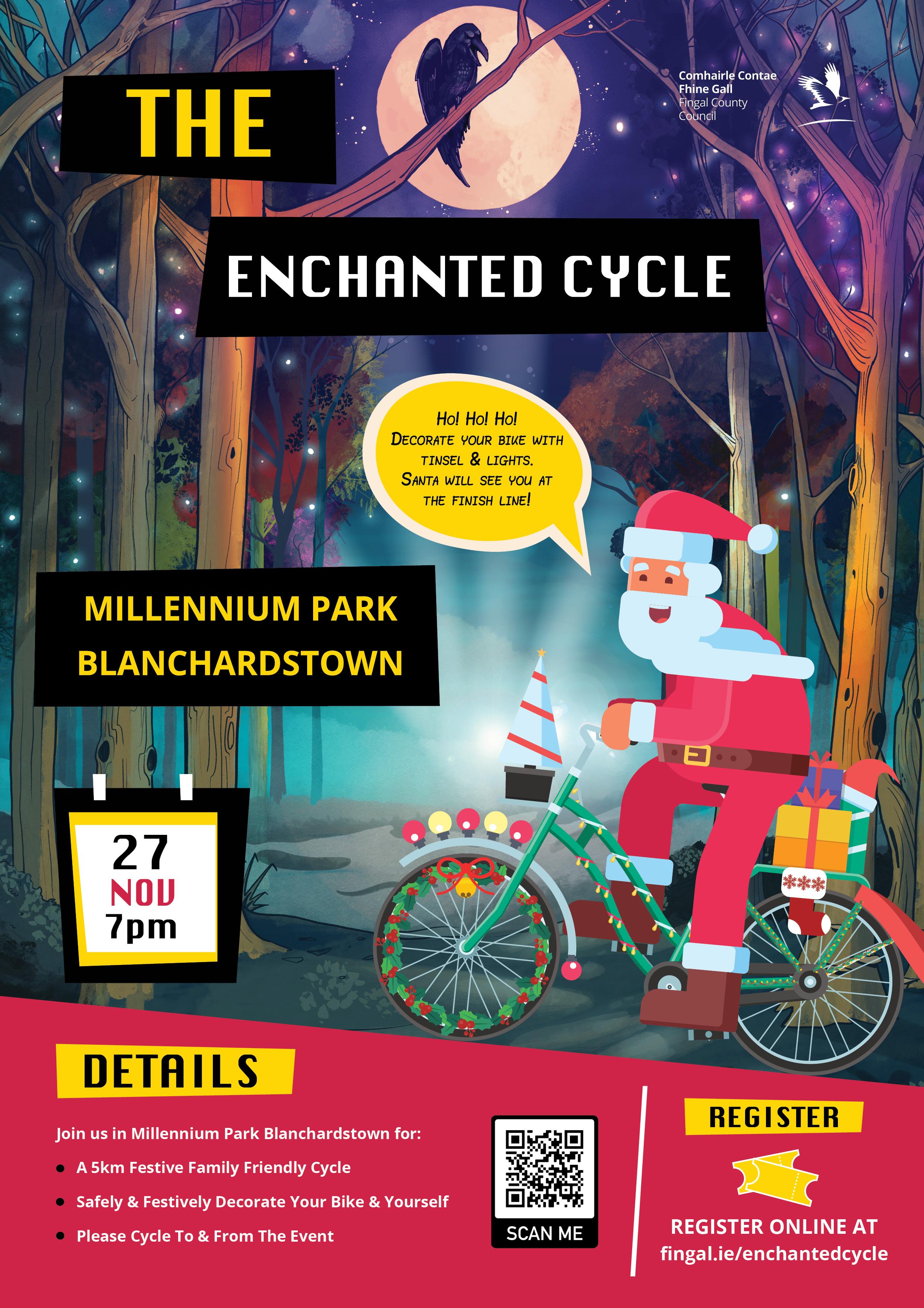 Join us on Saturday, 27 November at Millennium Park as we roll into the festive season with an Enchanted Cycle!
It's time to get out the tinsel, the fairy lights and the Christmas jumpers - we can't wait to see you and your bike dressed for festive fun!
This is a 5km family friendly cycle route suitable for ages 6+. We're also encouraging anyone who can to leave the car at home and cycle to and from the event or use public transport.
Entry is FREE of charge.
To register your group please fill out this form: https://consult.fingal.ie/en/content/enchanted-forest-cycle-millennium-park-27-november before 1pm on Friday, 26 November.
We look forward to seeing you there and Santa will be waiting at the finish line!
Please note: All cyclists are required to have a light on their bike for safety. If you do not have a working light on your bike you may be refused entry to the event.
Participant information
Fingal County Council have arranged for this fun activity to celebrate the festive season.

Prevailing Covid 19 protocols for outdoor activities will be observed during this event.

Where possible participants should cycle to and from the event location.  Pedestrian access will be available through the car park entrance to Millennium Park.

All participants are required to bring their own bike, which should be in good mechanical order and brakes working.  Tyres should be suitably pumped to reduce the risk of punctures during the activity.   

Lights are required on all bikes (white to the front/red to the rear).  This is a legal requirement when cycling at night. 

All cyclists are required to wear a helmet and should dress appropriately for the weather (festive attire welcomed).

Fingal County Council will provide each cyclist with a high-viz vest at the event registration however participants are encouraged to bring their own high-vis vest if possible.

This is a family friendly event however all participants must be able to confidently cycle a bike. It is not recommended for very young children who have not mastered cycling skills. 
Event registration
Registration will be at the 'Car Park'  in Millennium Park.

Cyclists should attend for registration at least 30 minutes in advance of the event.

Each cyclist is encouraged to dress in their best festive gear to add to the festive feel of the cycle and to safely bling their bikes with lights and tinsel of desired.

A safety briefing will be delivered by the Lead Cycle Marshal on the night just before departure.
General Safety
For the safety of each cyclist, all participants are requested to follow the guidance provided by our team of marshals.

Cycle marshals will be positioned to the front and rear of the group, and at intervals within the group. 

The route has been carefully selected with participant safety in mind  and will follow a mix of tarmac pathways and woodland trails within Millennium Park and the segregated cycle lanes surrounding Hartstown/Huntstown.

Lighting quality will vary along the route.