Credo Reference - a research resource at your fingertips

Do you want to do general research on a topic but don't know where to start? Is your first step always a Google or Wikipedia search? If so, you may want to check out Credo Reference, an online reference database with access to over 1,300 titles from over 100 publishers. This resource covers a broad range of subjects, including health, medicine, psychology, biographies, history, science & environmental studies. Unlike some material brought up by internet searches, the material collected in the Credo Reference database has been through an editing and publishing process and authorship is readily identifiable. All of these factors provide a good guide to the accuracy and reliability of the information.
This digital reference database provides a good starting point for general research. You can browse titles under various subject headings and perform keyword searches as well as searches for images. Click on the page link icon to create a URL link to your search results. In this way, you can create your own customized digital bookshelf on any topic. Credo Reference allows you to download, print, share and translate material. The 'research quick tips' section provides guidance on how to find, evaluate and use information effectively. Included in the database are more than 60 titles from the DK Eyewitness series. These non-fiction books for older children and teenagers provide plenty of material, including images, on a range of topics and are useful for school projects.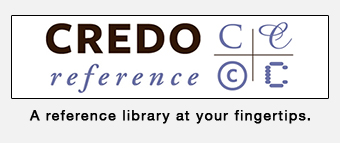 Credo Reference:
Browse  2,118,671  full text articles in  762  titles from  102  publishers

Subjects include health, medicine, psychology, biographies, history, science & environmental studies

Offers research tips
You can access Credo Reference for free, from home. To log in, all you need to do is select 'Fingal County Libraries' for your branch, then enter your library card number:
- Orla Drohan.