Route Development and Assessment Process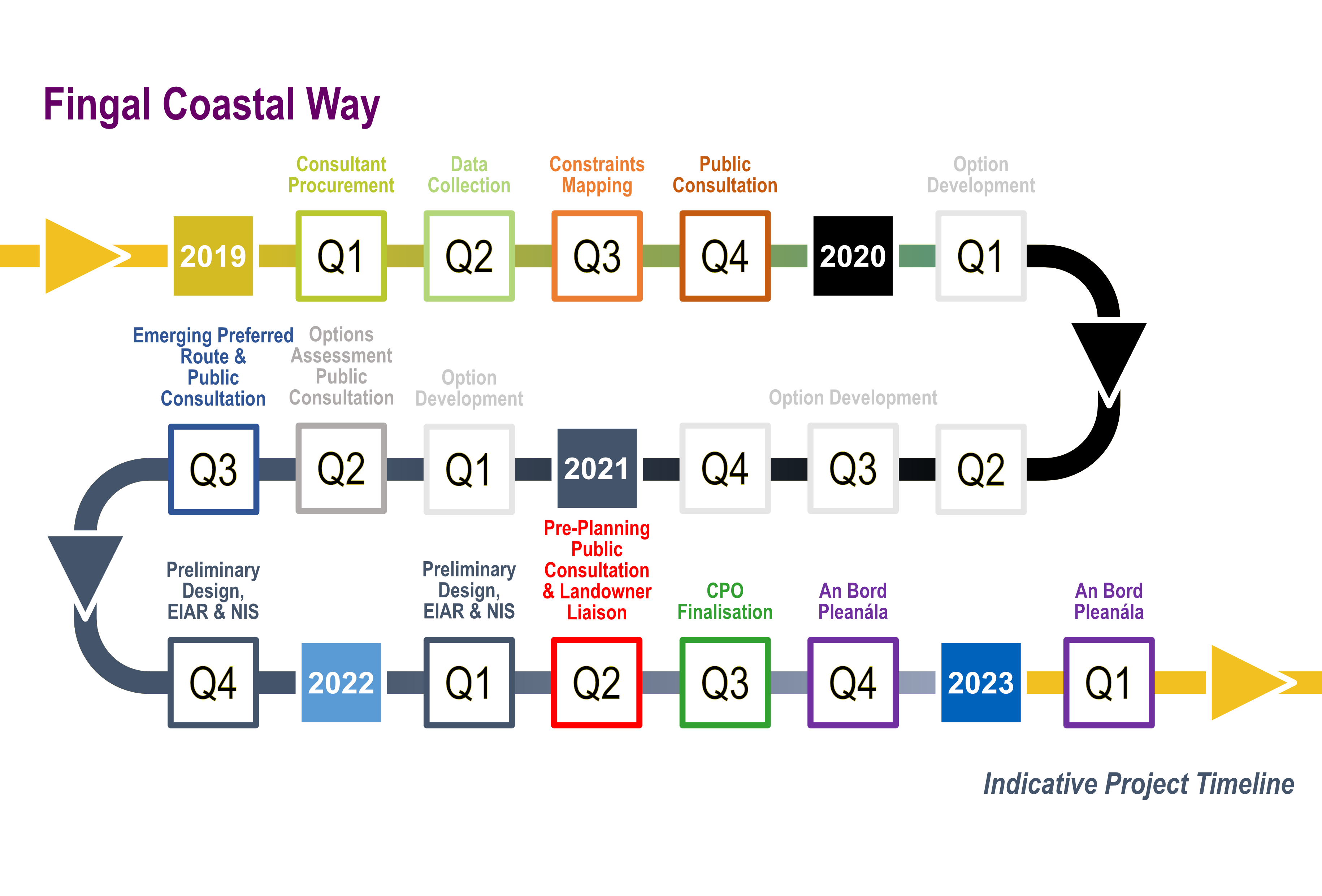 What has happened previously?
The project commenced in 2019, beginning with a Constraints Study being prepared to identify key constraints and opportunities associated with the scheme study area. In tandem with this, an early stage public consultation was carried out during November and December of 2019 which included a number of information evenings and an online consultation.
The information gathered through that process has been carefully reviewed by the project team in closing out the Constraints Study.
The key feedback emanating from that public consultation is provided at the following link. In early 2020 following on from the Constraints Study, work on the Feasibility Study and Options Assessment process commenced which consists of a two-stage options assessment process.
What's Happening Now?
Currently the scheme is at the route selection stage. A number of potential route options will be published online from the 15th April 2021 on Fingal County Council's website https://consult.fingal.ie/en/consultation/fingal-coastal-way-non-statutory-public-consultation. Due to the Covid-19 pandemic and public health restrictions on gatherings, we are not in a position to hold a traditional, in-person public consultation event during this round of public consultation. However, your feedback on the scheme is still very important to us and we encourage you to take part in this round of public consultation and complete the online questionnaire.
This first stage of route option identification and assessment was undertaken by comparing possible routes under the following criteria: Engineering, Environment and Economy in line with national standards and best practice. The outcome of this process is a short list of viable route options which will be carried through to the next stage of the route selection process
What will happen next?
Following completion of this public consultation process, we will review the feedback from the public and adjust route options where appropriate. A more detailed, second stage assessment will then be carried out on these short listed route will identify the Emerging Preferred Route for the Fingal Coastal Way.
There is a significant amount of work to be undertaken in order to identify an emerging preferred route and carry out the required design and environmental assessments required prior to submitting an application for planning. As such it is envisaged that a planning application is likely to be submitted to An Bord Pleanála by Q4 2022