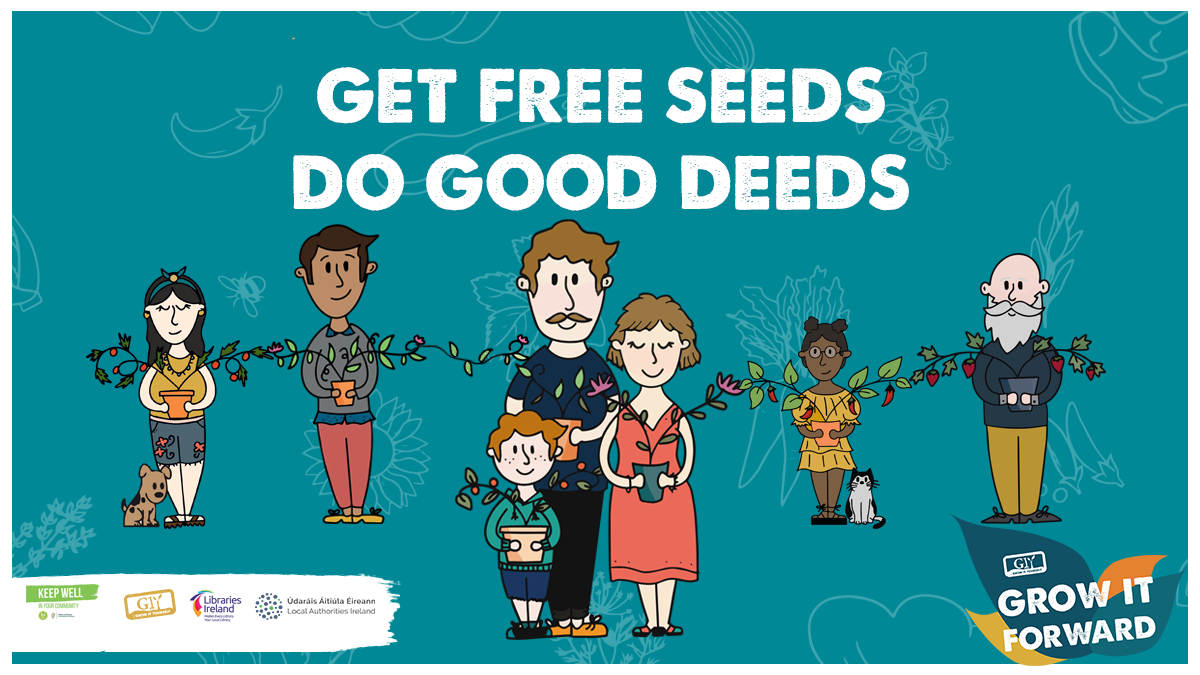 What is the Grow It Forward Campaign?
The Grow It Forward campaign is a collaborative programme between the Irish Public Library Service and the Grow It Yourself organisation that supports people to live healthier and more sustainable lives by growing some of their own food. The campaign will run from 23rd March to 30th June.
This project is part of a national programme developed by GIY to support the Government of Ireland's Living with COVID Resilience and Recovery Plan as the lead activation under the Healthy Eating pillar delivered in partnership with the national library network. ​
For the majority of people, the best way to contribute to Ireland's response to this global public health crisis is to stay positive and stay home. People need to stay physically and mentally well and connected with their family, friends, neighbours or broader community whilst adhering to public health guidelines. Food growing offers a new challenge and a mindful dose of fresh air and optimism, with the promise of great homegrown food to look forward to. It also confronts the vulnerable feeling of not knowing where your food comes from, replacing it with a GIYer's pride.
Free starter growing kits
Through this partnership we will be distributing 830 starter growing kits for people to grow at home. Each kit will contain five packets of seeds: tomatoes, carrots, mixed oriental greens, peas and beetroot. They will also contain 9 gift tags and a GROW It Forward planting information sheet.  We ask all participants to GROW It Forward by sharing their kits as little seedlings, plants in pots or the produce at harvest time to 9 other people so that we can achieve our goal of impacting as many people as possible with food growing.  "Get free seeds - do good deeds"
One kit only per registration The kits will be posted out to you on completion of registration. Please allow sufficient time for postage.
You can register for a kit at your local library via email. You can find your library email address at Here
We can help
We also have lots of eMagazine eMagazine and eBooks eBooks  to help you on your way
Check out all our e services on our webpage Here
HAPPY PLANTING