A standard Long-Term Lease is an agreement from a Local Authority to lease a property from a property owner for a period of up to 25 years under conditions set out in the Lease Agreement.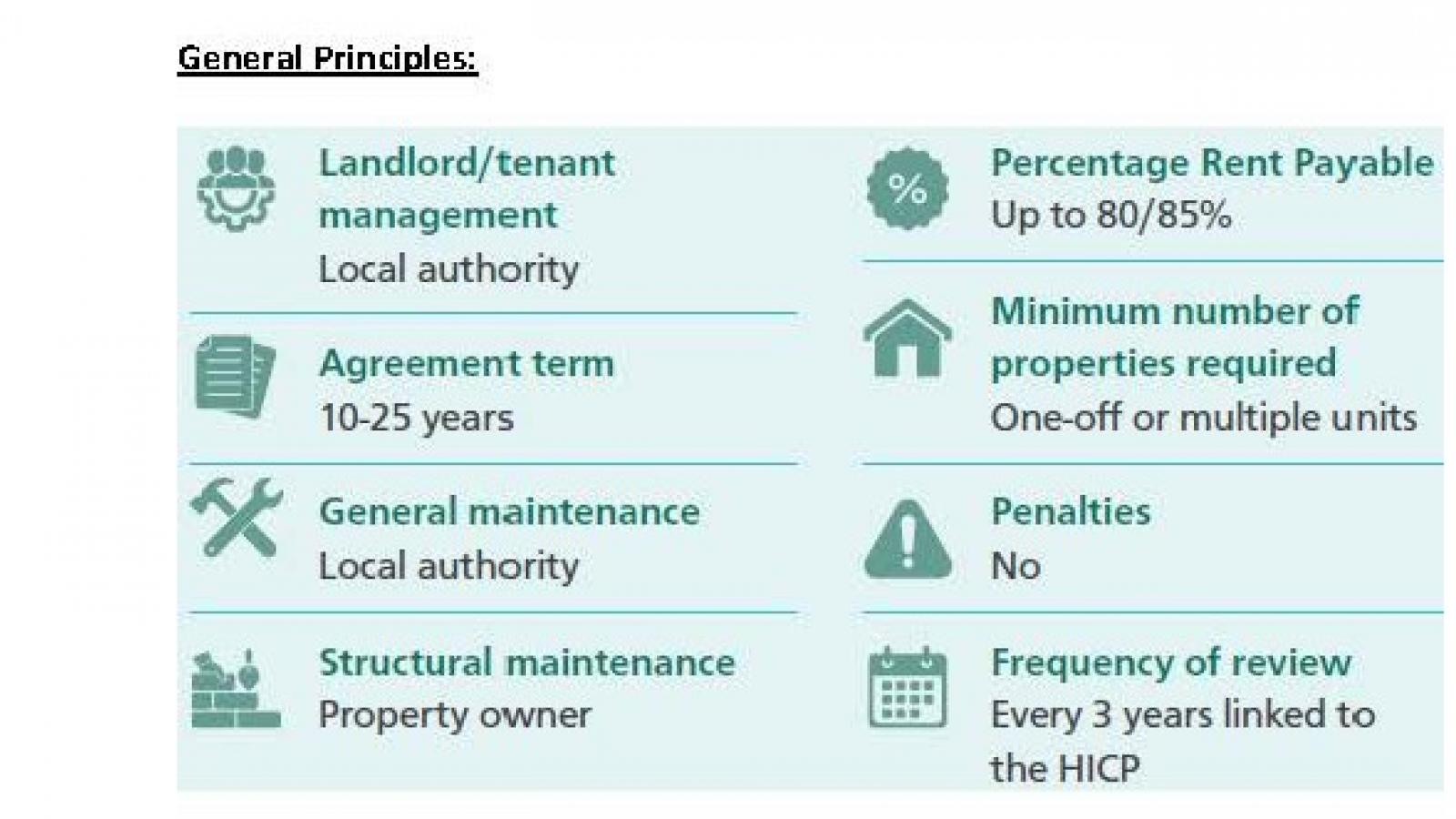 Under the arrangement, Fingal County Council will:
Be the landlord to tenants

Manage and provide support to tenants

Maintain the property internally for the term of the lease, the property will be returned to the owner in good condition at the end of the lease term, subject to fair wear and tear.

Pay up to 80% or 85% of the open market rent throughout the terms.
The Lessor will:
Provide proof of ownership to Fingal County Council and any other documents required

Insure the building

Pay the local property tax (LPT)

Be responsible for all structural repairs and maintenance of the exterior of the property

Have no rent collection or rent arrears obligations

Not have to register the tenancy with the Residential Tenancies Board (RTB).
Rent:
Up to 85% of market rent is payable when the unit is subject to an annual service charge in excess of

[1]

€1,000 per year.

Rent is reviewed on the third anniversary of the commencement date of the lease by reference to the Harmonised Index of Consumer Prices (HICP

[2]

), and every third year thereafter.

Payment will be made monthly to Lessor by Electronic Fund Transfer directly to their bank account.

The Lessor must provide an up to date Tax Clearance Certificate.
Contact us:
Enquiries about Standard Long-Term Leasing can be e-mailed to [email protected] .
[1] Evidence must be provided
[2] The HICP provides the official measure of consumer price inflation in the euro area and the EU and measures the changes over time in the prices of consumer goods and services acquired by households. The HICP figures for Ireland are compiled by the CSO. Basing rent reviews on the index of HICP should ensure more stability for both parties to the agreement.